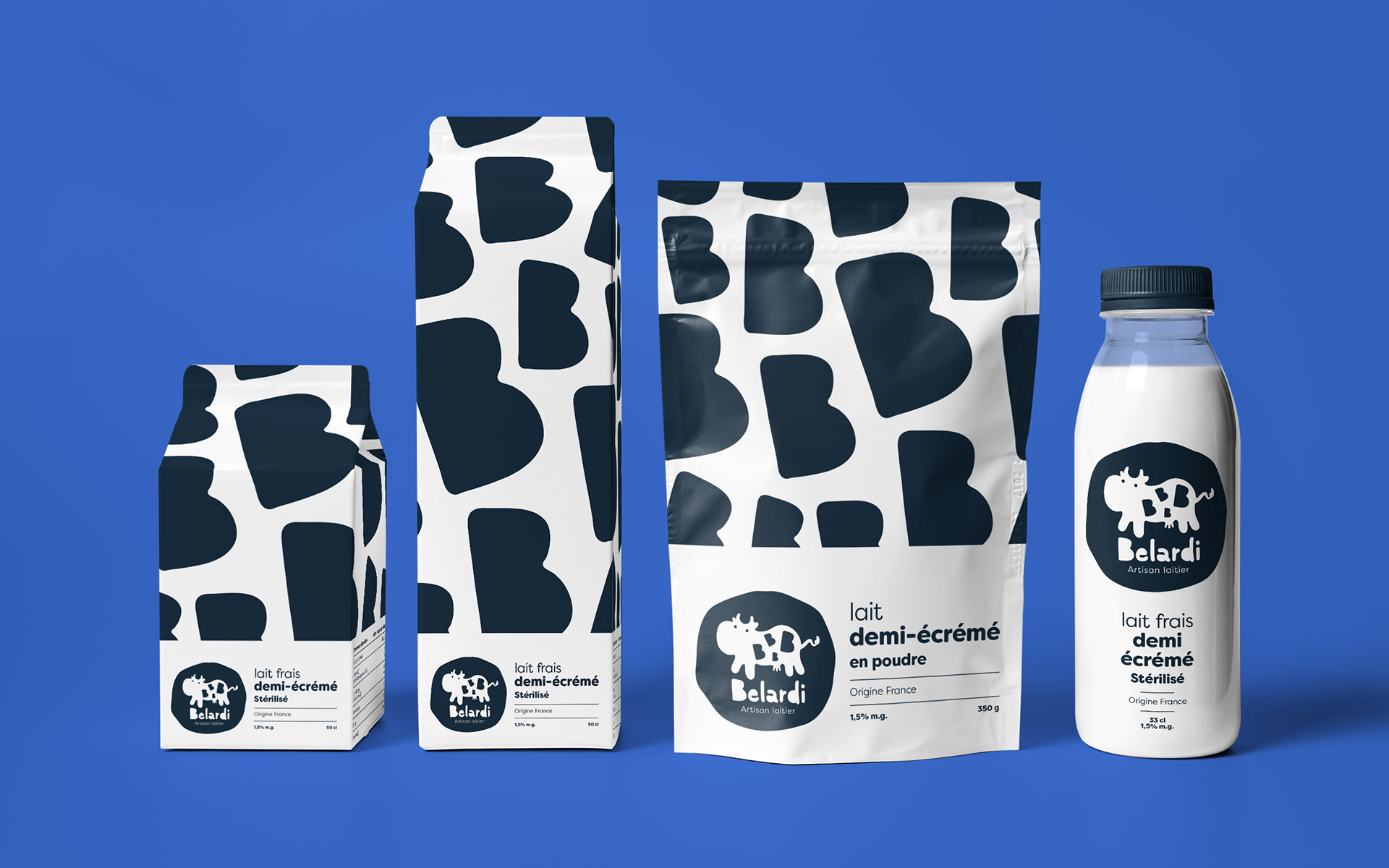 Belardi
Identité visuelle, packagings
 / Visual identity, packagings
Projet

non retenu
 /

Rejected project
Le projet
Belardi est une laiterie artisanale Basque. Le lait provient directement de leur propre bétail élevé en plein air pour être ensuite pasteurisé au sein de leur laboratoire. La marque souhaitait une approche épurée mais ludique pour ainsi refléter respectivement la qualité de leurs laits mais aussi la qualité de vie de leurs vaches.
Belardi is a Basque traditional dairy. The milk directly comes from their own free-range cattle
and then pasteurized within their own laboratory. The brand wanted a clean but playful approach in order to illustrate the quality of the milks but also the quality of life of the cows.
PS: Dear english-speaking friends, sorry for possible language mistakes. I did my best.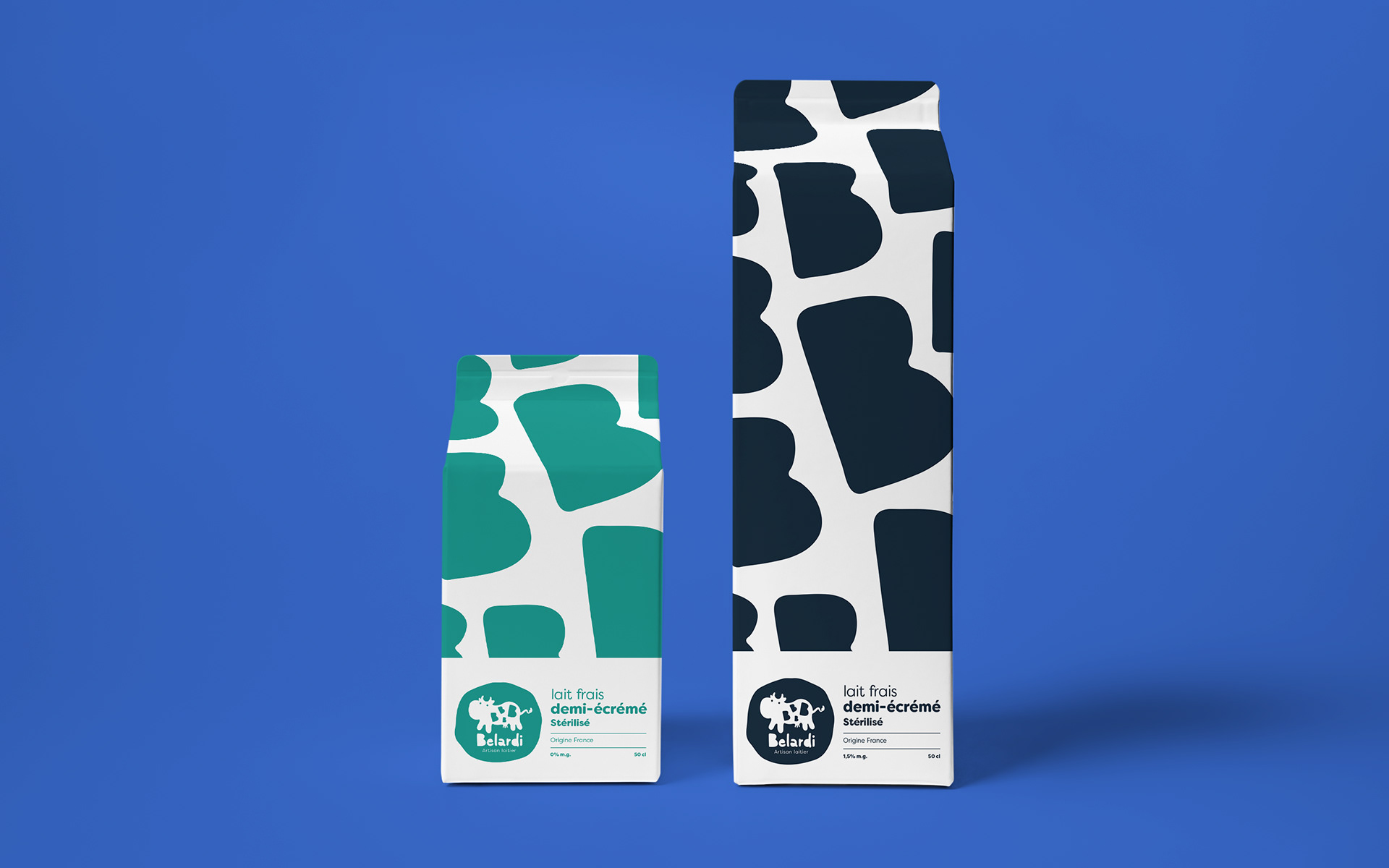 Typographie
La typographie du logotype a été créée de toute pièce. Les graisse et rondeur des caractères inspirés des formes de la vache. Pour encore plus de générosité, et d'homogénéité, les caractères ont été privés de leurs contre-formes : on se retrouve donc face à des lettres fluides, bien rondes reflétant ainsi
la gourmandise en rappelant subtilement les tâches de la robe bien connue de l'animal. L'identité inclut également l'utilisation du
Filson Soft
 (Black & Book) en tant que caractère typographique de labeur.
The logo's typeface has been fully hand-drawn. The characters' bold and round style inspired by the cow's curves. To add a little more bounty but also cohesion to the typeface, counters have been closed: the letters suddenly turn into fluid and plump shapes reflecting the love of good food but also the famous cow's spots. Belardi's Visual identity also includes Filson Soft (Black & Book) as body font.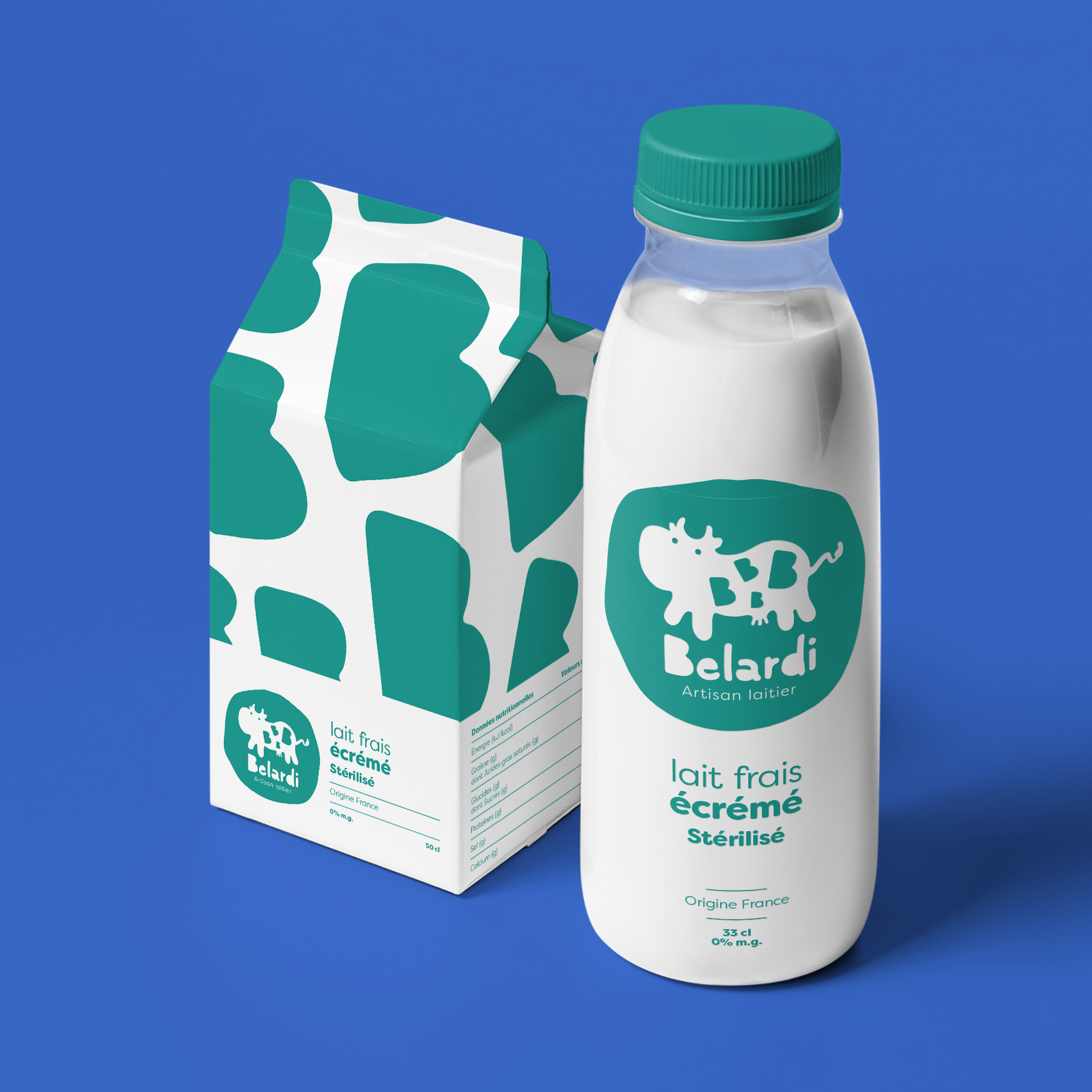 Trame
En détournant le B du nom de la marque, une trame répétitive directement inspirée par les tâches des vaches a été créée. 
Appliquée en all-over sur la majorité de l'emballage, cette trame assure singularité aux packagings tout en jouant sur l'authenticité des produits. 
Seules les bouteilles de 33cl s'affranchissent de ce principe graphique : il semblait prioritaire de profiter de la transparence du contenant pour mettre en avant les laits.
By using the Belardi's B, a seamless pattern directly inspired by cow's spots has been designed. That all-over design covers most of the packaging: it handles them singularity but also points out on the authenticity of Belardi's products. Only the 33cl bottles free themselves of the pattern: as the container is transparent, the priority was to show the milks.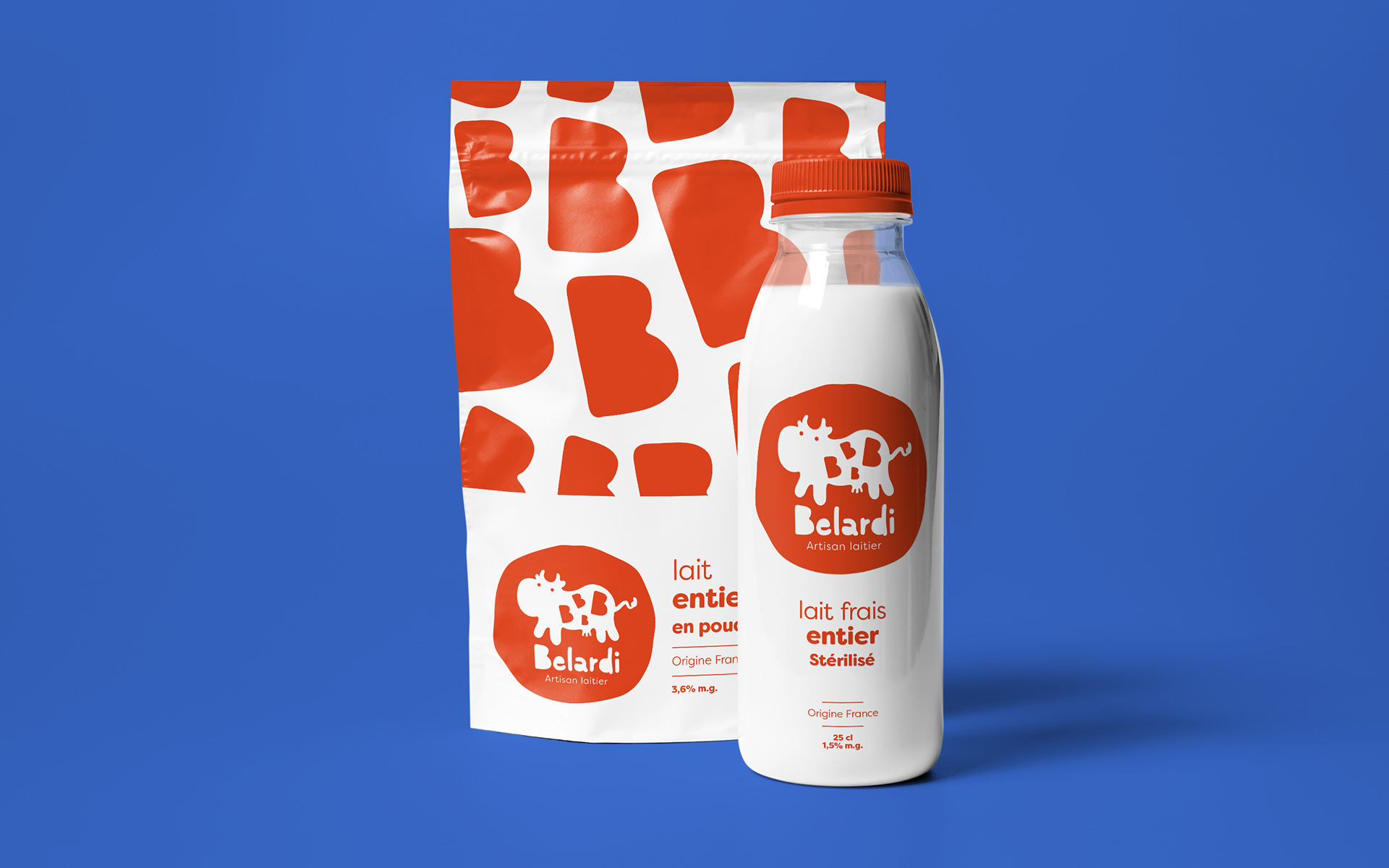 Couleurs
Chaque produit Belardi possède sa propre couleur : qu'elle soit inspirée des codes couleurs traditionnels pour les laits "classiques" (écrémé, demi-écrémé et entier) ou par la saveur du produit qu'elle habille, chaque couleur est dans tous les cas utilisée seule en complément du blanc.
Each Belardi product has its own color: whether it's defined by "classical" milk (skimmed, semi-skimmed and whole) color coding or by the flavour of the product it represents, each color is always used alone in addition to the milky white.