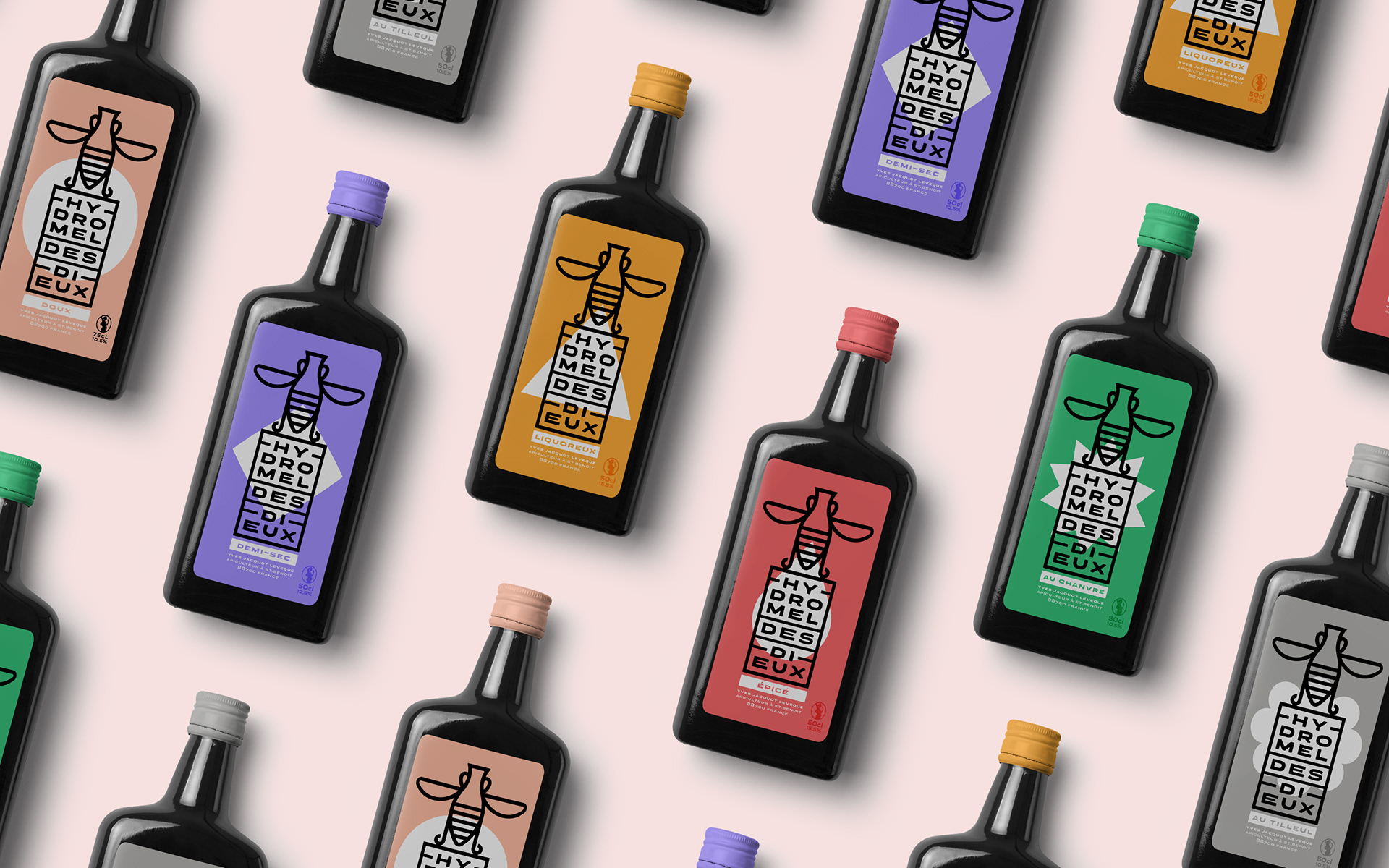 Hydromel des Dieux
Identité visuelle
/ Visual identity
Le projet
Yves Jacquot Leveque est apiculteur indépendant. Basé dans l'est de la France, ses miels ont été médaillés à plusieurs reprises. C'est à partir de ces mêmes miels qu'il produit l'Hydromel des Dieux, boisson alcoolisée simplement composée de miel et d'eau. Il se décline en 6 hydromels : doux, demi-sec, liquoreux, épicé, au chanvre et au tilleul. Trop souvent associé à l'imagerie celte et/ou gréco-romaine, l'hydromel est pourtant un breuvage qu'on consommait depuis bien plus longtemps en Égypte antique. L'idée était donc de rendre à l'hydromel son histoire pour ainsi assurer à la marque originalité et singularité face à la concurrence.
Yves Jacquot Leveque is an independent beekeeper. Based in east of France, his honeys have received medals several times. Thanks to the same honeys, he produces the Hydromel des Dieux (Mead of the Gods in english), an alcoholic beverage simply made of honey and water. Yves offers a range of 6 hydromels: mild, medium dry, liquor-like, spicy, hemp-flavoured, linden-flavoured. Way too often associated to Celtic and/or Greco-Roman's imagery, hydromel is however a beverage that Ancient Egyptians used to drink first. The idea was to give hydromel its history back in order to increase the originality and singularity to the brand facing the other ones.
PS: Dear english-speaking friends, sorry for possible language mistakes. I did my best.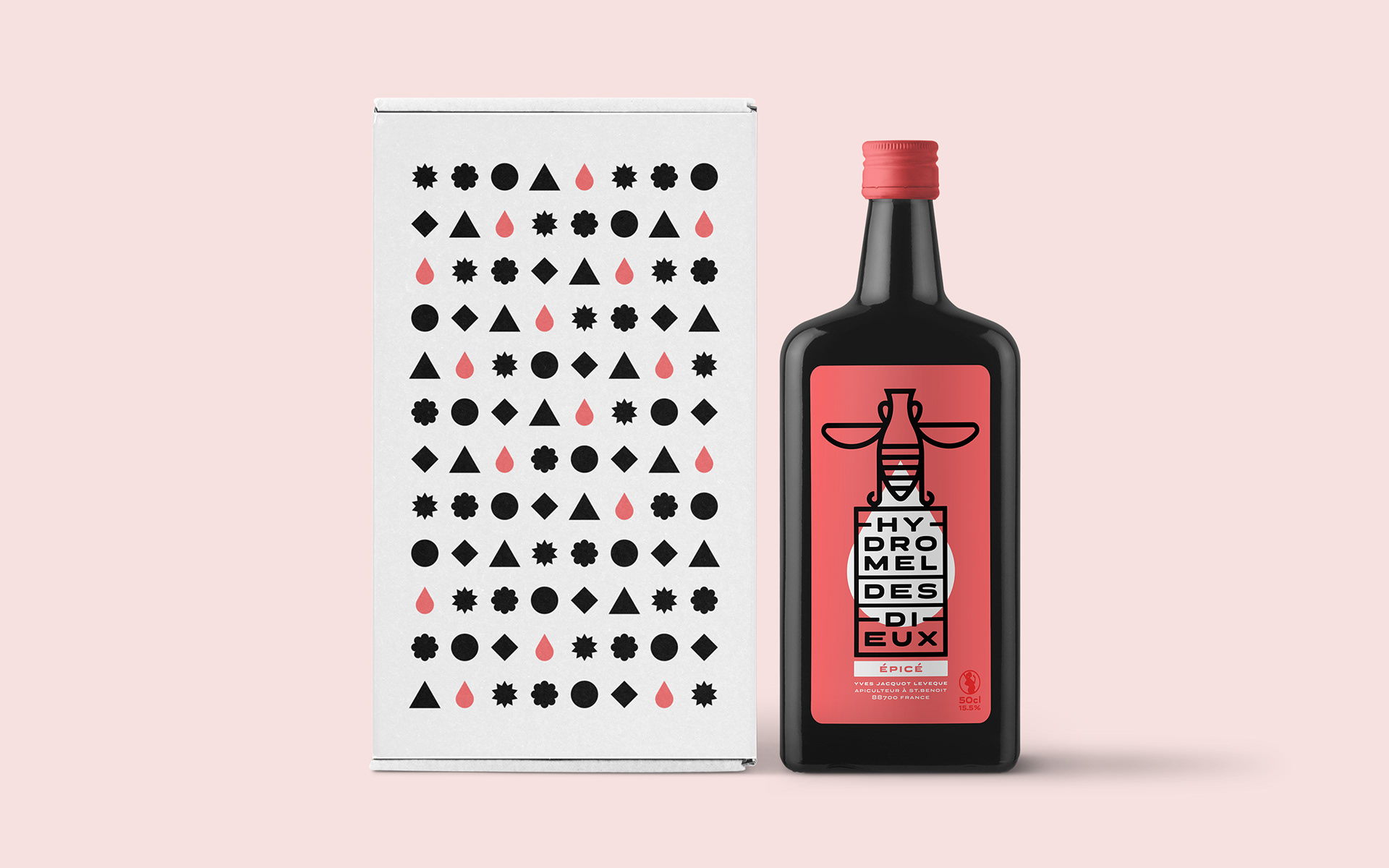 Pictogramme
Hybridation d'une amphore et d'une abeille, le pictogramme en résultant est obtenu à partir d'un système de cercles de construction. Pour un résultat homogène, seules 3 tailles différentes de cercles ont été utilisées.

Hybridization of an amphora and a bee, the resulting icon is built thanks to a circular grid system. In order to end up with an homogeneous result, only 3 sizes of circles have been used.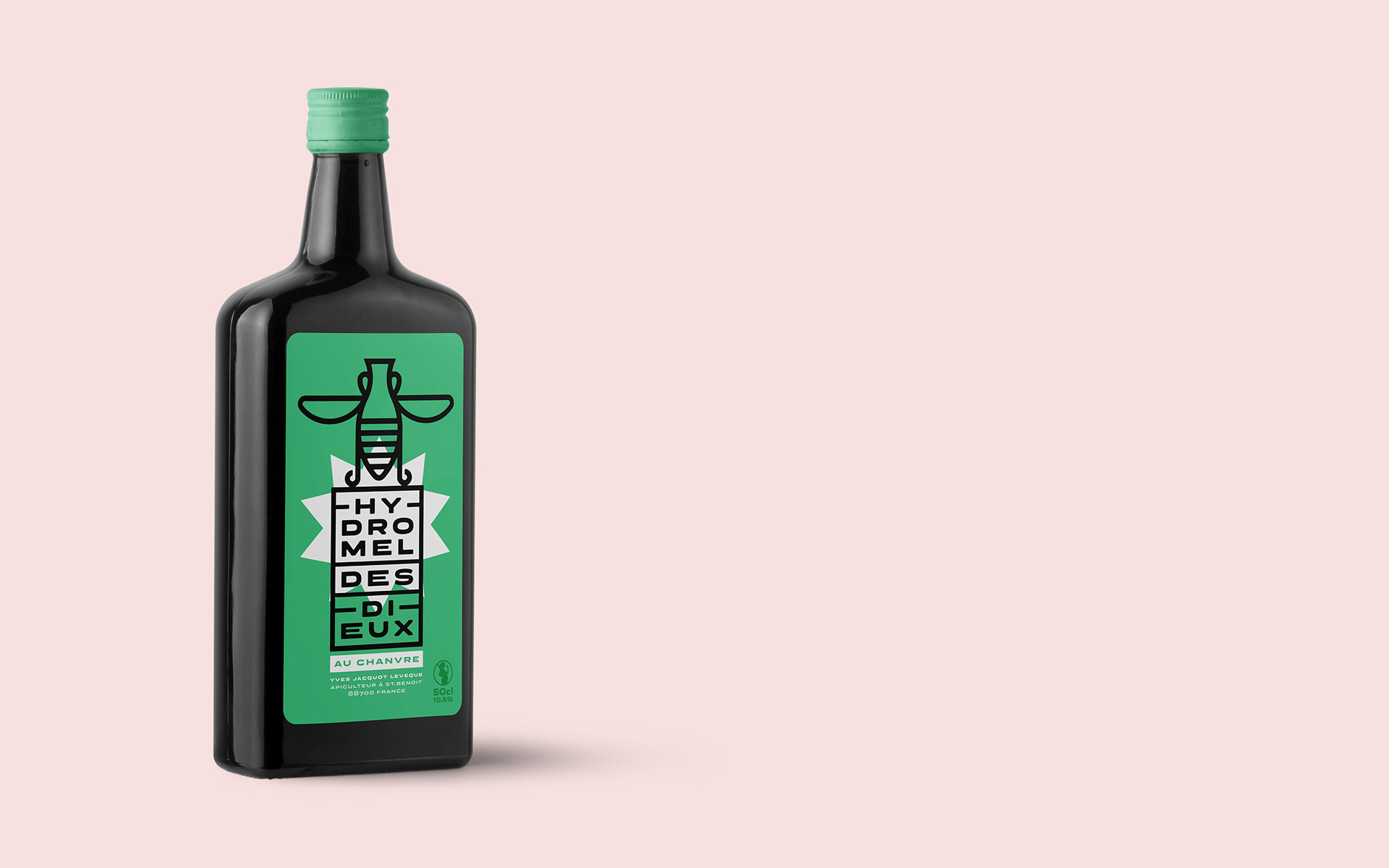 Typographie
En plus du symbole de "l'amphore-abeille", le logotype de la marque est constitué d'un jeu typographique directement inspiré de l'écriture hiéroglyphique égyptienne : construction horizontale en lignes courtes, le tout imbriqué dans un cartouche.
In addition to the "amphora-bee" symbol, the brand logo is made of a font composition directly inspired by the Egyptian hieroglyphs: horizontal construction including short lines, with all included in a cartouche.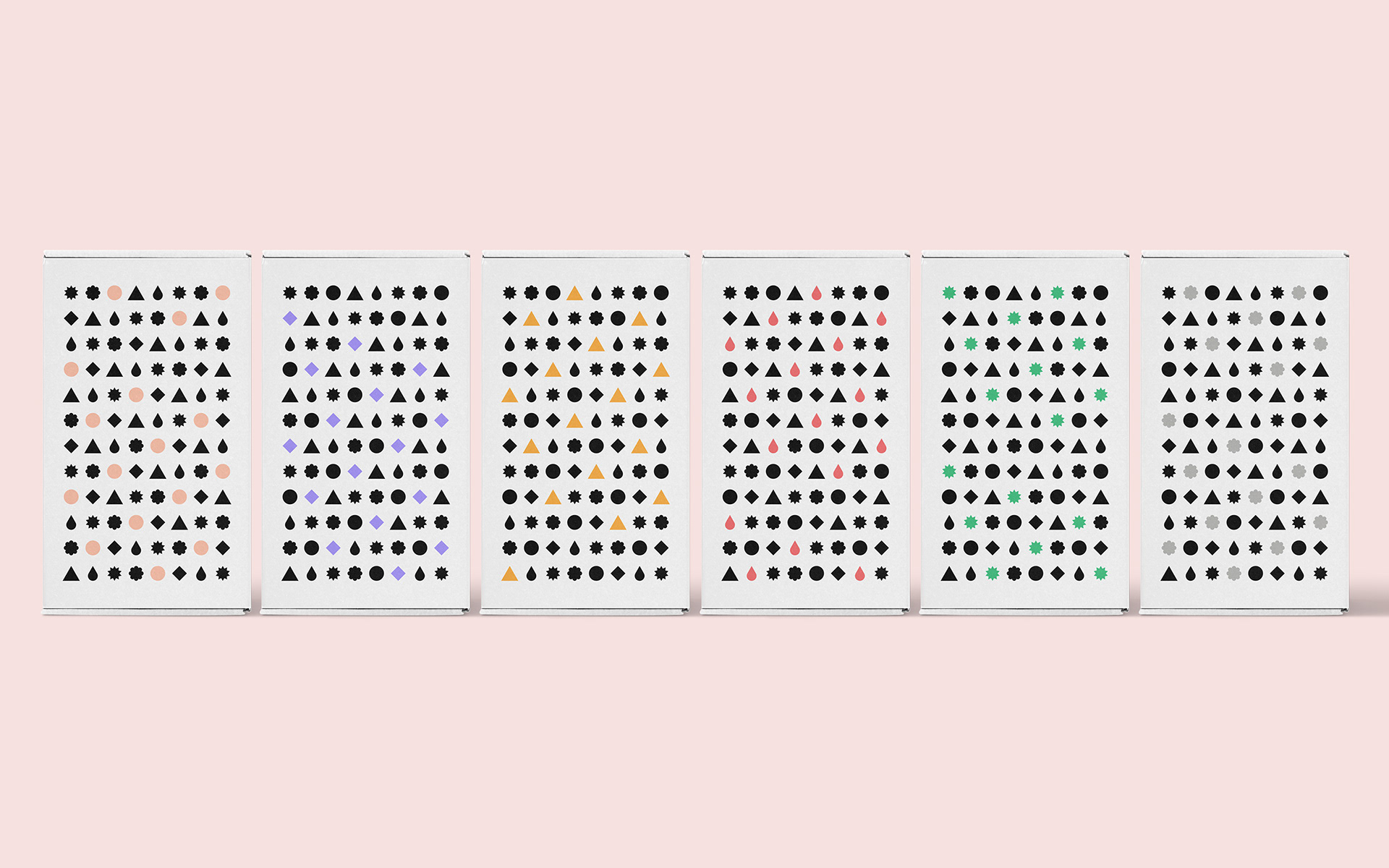 Couleur & idéogrammes
L'Hydromel des Dieux comptant 6 références, un code visuel a été élaboré : chaque référence d'hydromel possède donc son propre idéogramme et sa propre couleur. Les idéogrammes et leurs couleurs respectives tendent à suggérer visuellement les textures, saveurs et ingrédients additionnels de chaque recette.
As the Hydromel des Dieux counts 6 different styles, a visual code has been established: each kind of hydromel has its own ideogram and colour. The ideograms and their colours tends to visually suggest textures, flavours et additional ingredients of each recipe.