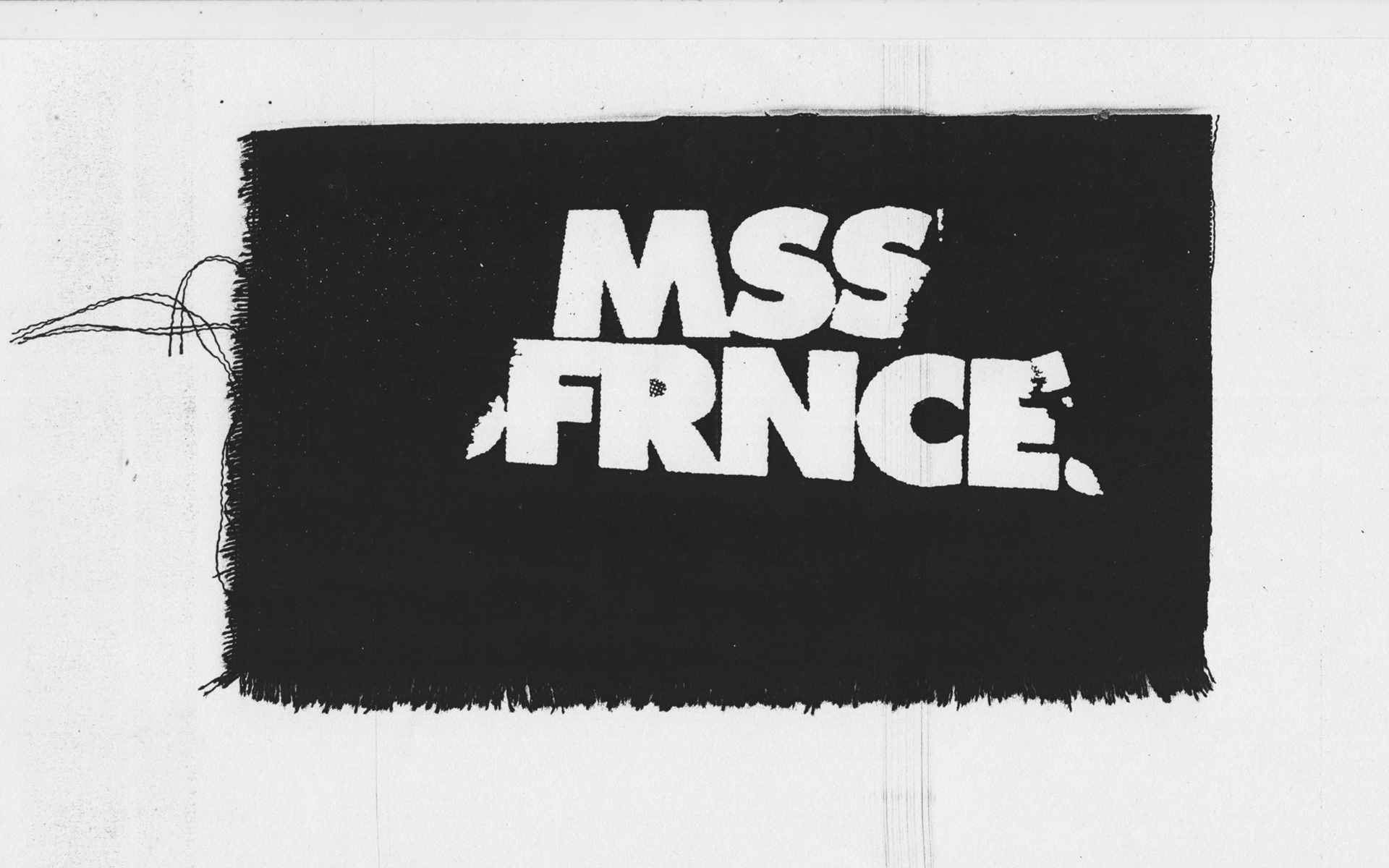 Identité visuelle

/ Visual identity
MSS FRNCE [misfʁɑ̃s] est un quatuor Punk venant de Paris. Influencés par des groupes dont les morceaux dépassent occasionnellement 2 minutes,  les membres de MSS FRNCE décrivent leur musique comme telle :
Ça chante en français mais on ne comprend pas les paroles. Apparemment, elles tentent d'être sociales, politiques et engagées. C'est ce que ça gueule entre deux larsens. Les mecs font du punk mais portent des chemises. Finalement, ils jouent tellement fort qu'on ne sait pas si ça joue bien ou pas.
L'identité visuelle du groupe est entièrement travaillée à la main. Le logotype, puis tous les supports suivants sont toujours réalisés de la même façon : à l'aide d'un photocopieur noir & blanc, d'une paire de ciseaux, de scotch.
MSS FRNCE [misfʁɑ̃s] is a Punk quartet from Paris, France.
Influenced by bands whose tracks occasionally goes beyond 2 minutes, members of MSS FRNCE describe their own music like this:
Sung in proper french but you won't understand a word anyway. Obviously, the lyrics tend to be social, political and engaged. Well, that's what it's yelled between two larsen. The guys are playing punk but wearing casual shirts. In the end, the band plays so loud you won't even know if it sounds good or bad.
MSS FRNCE's visual identity is fully handmade.
The logo, and then every medium are always designed following the same rules:
using a black & white photocopier, a pair of scissors and some adhesive tape.
PS: Dear english-speaking friends, sorry for possible language mistakes. I did my best.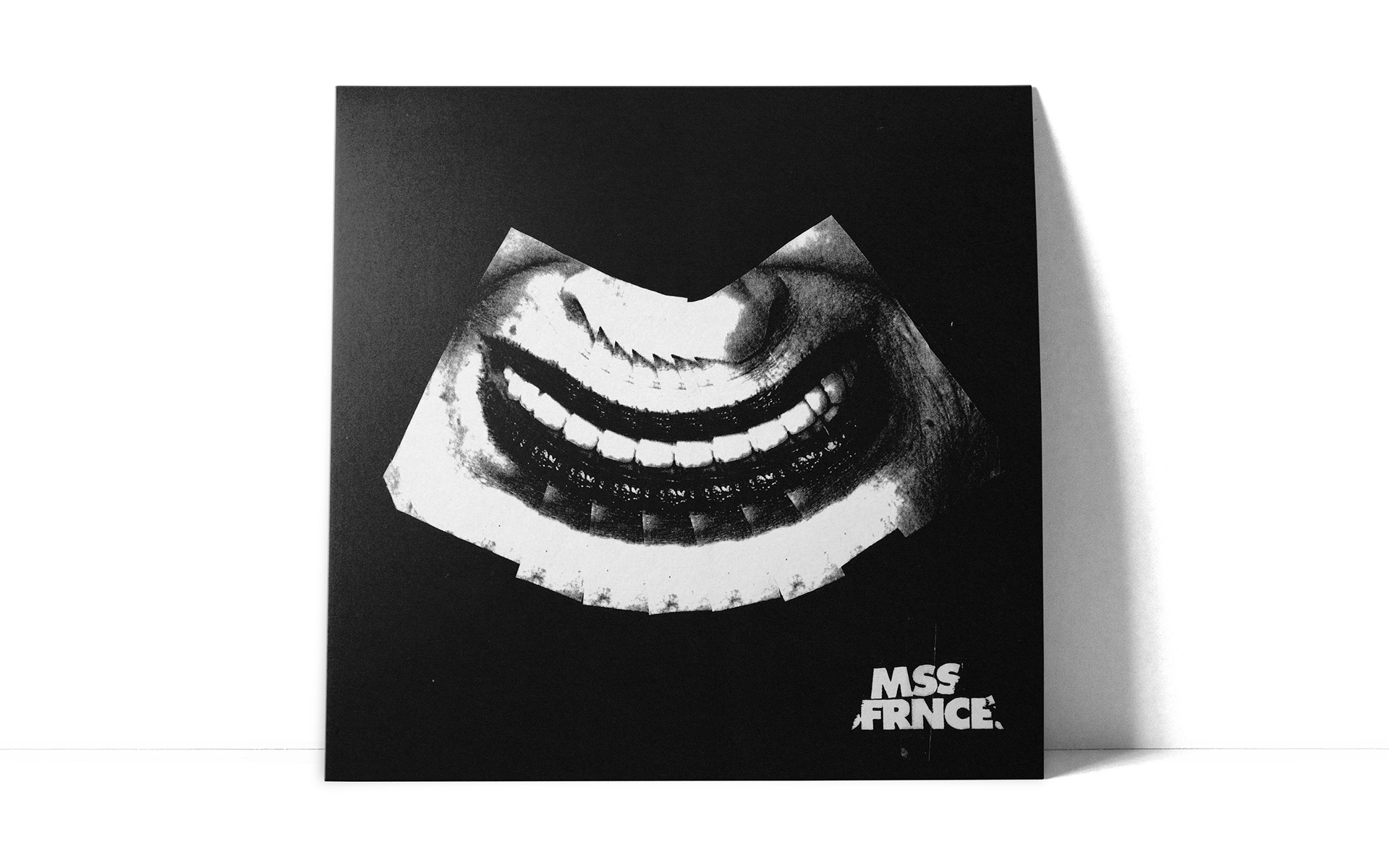 EP I
I est le premier EP du groupe, enregistré en 2016 par Romain Turzi dans son propre studio. Disponible seulement en version digitale dans un premier temps, MSS FRNCE décide de l'enregistrer sur cassette audio quelques mois plus tard. 
La pochette représente un collage construit à partir de plusieurs morceaux de la bouche de Geneviève de Fontenay.
I is the band's first EP, recorded in 2016 by Romain Turzi in its own studio. Only available as a digital album in the beginning, the band decided to record it on cassettes few months later. The artwork shows a collage made of several pieces of Geneviève de Fontenay's mouth.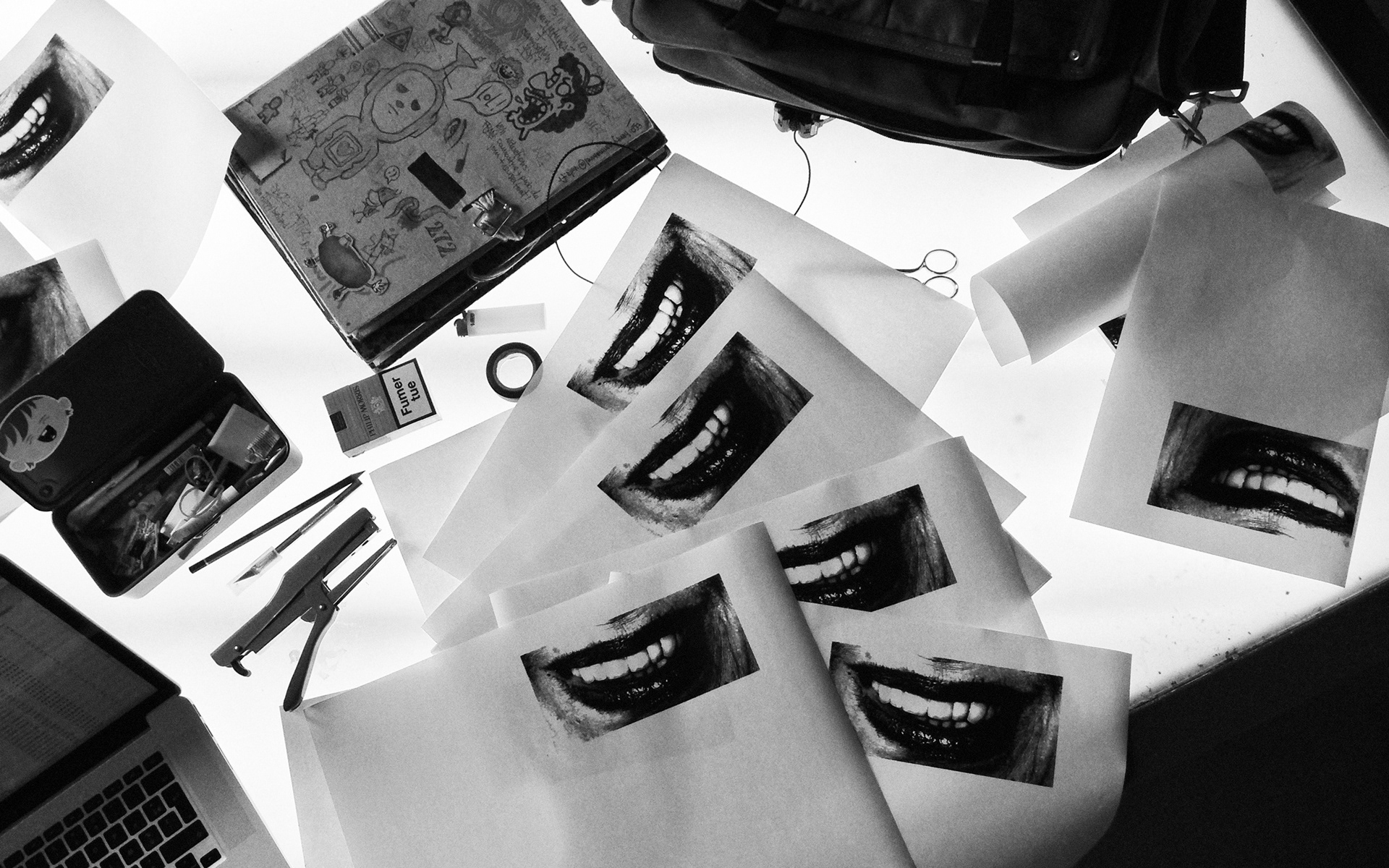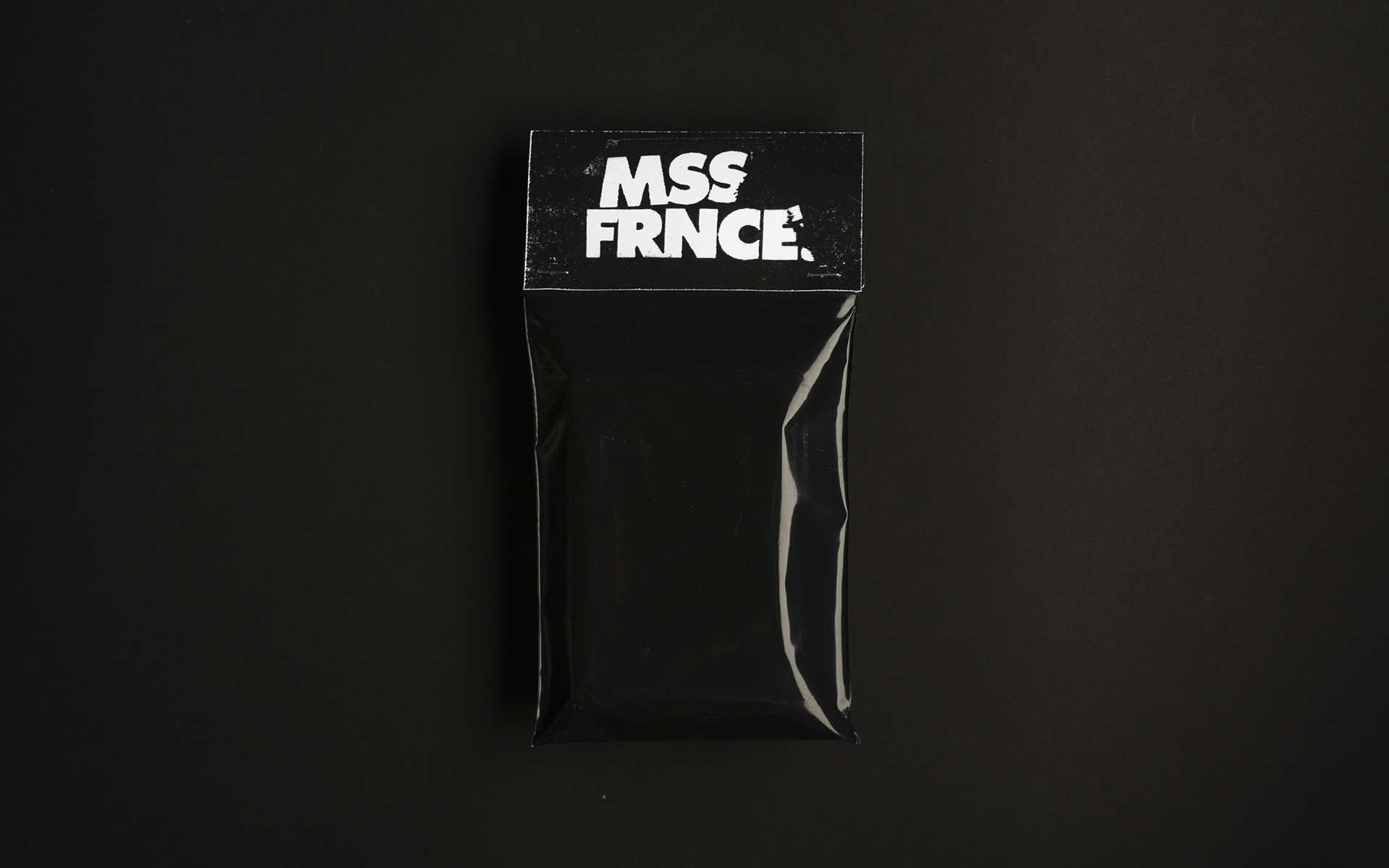 EP I - Édition pochette surprise
Enregistré sur 50 cassettes colorées, I sort en version limitée et numérotée.
Chaque exemplaire prend la forme d'une pochette surprise contenant :
- I enregistré sur une cassette colorée avec impossibilité de choisir une couleur
- Un livret de 24 pages entièrement réalisé à la main (format : environ 13 x 9 cm)
- Un sticker rond (format : diam. 7 cm)
Le tout est rassemblé dans un sachet noir opaque scellé, il est donc impossible de connaitre
la couleur de sa cassette avant ouverture.
EP I - Blind pack edition
Recorded on 50 coloured cassettes, I is limited and numbered to 50 copies.
Each copy takes the shape of a blind pack containing:
- I recorded on coloured cassette without any possibilities to choose a colour.
- A 24-page leaflet fully handmade (size: approx. 13 x 9 cm)
- A round sticker (size: diam. 7 cm)
All of this is packed into a sealed black plastic sachet which prevents to see the color of the cassette until opening.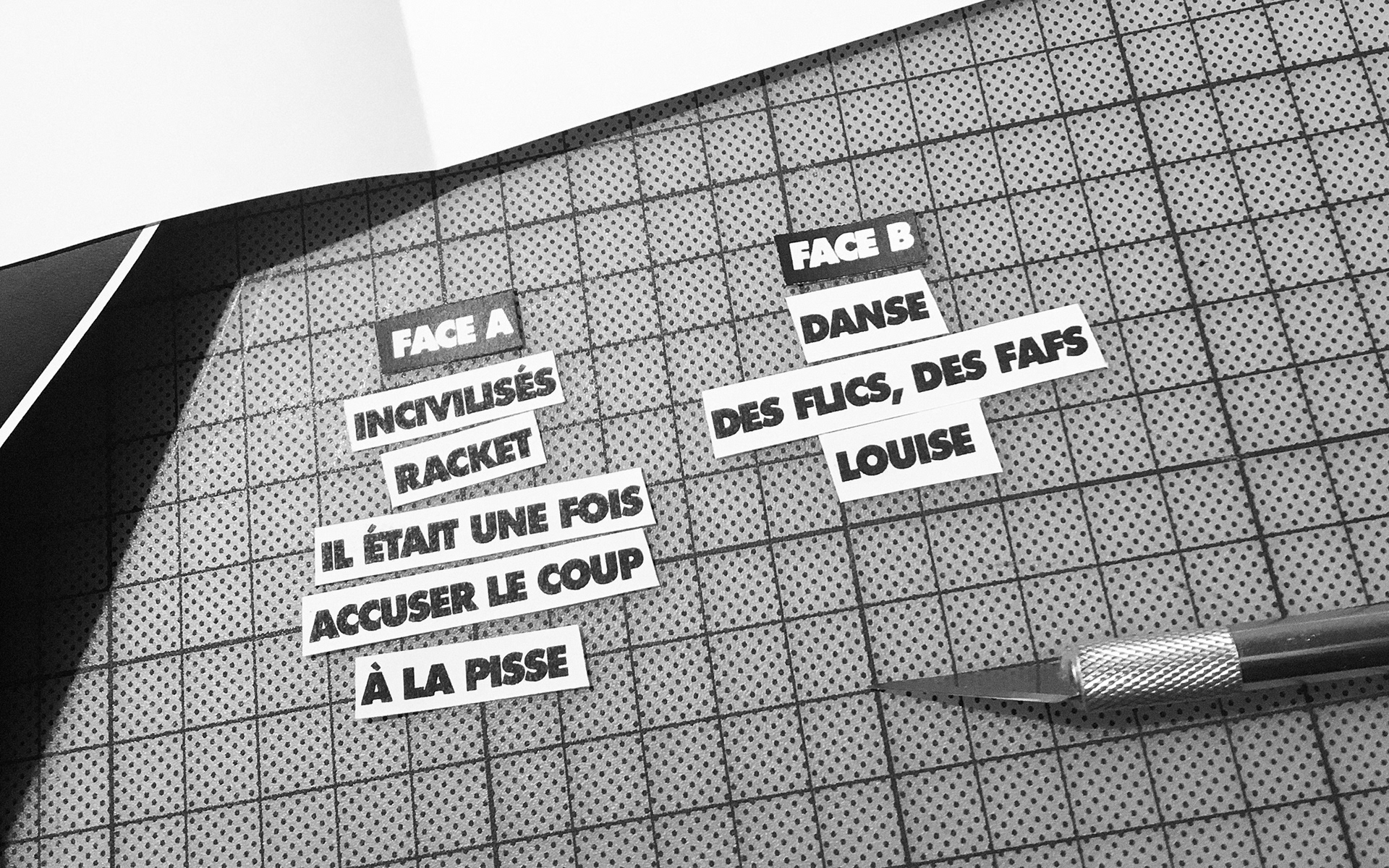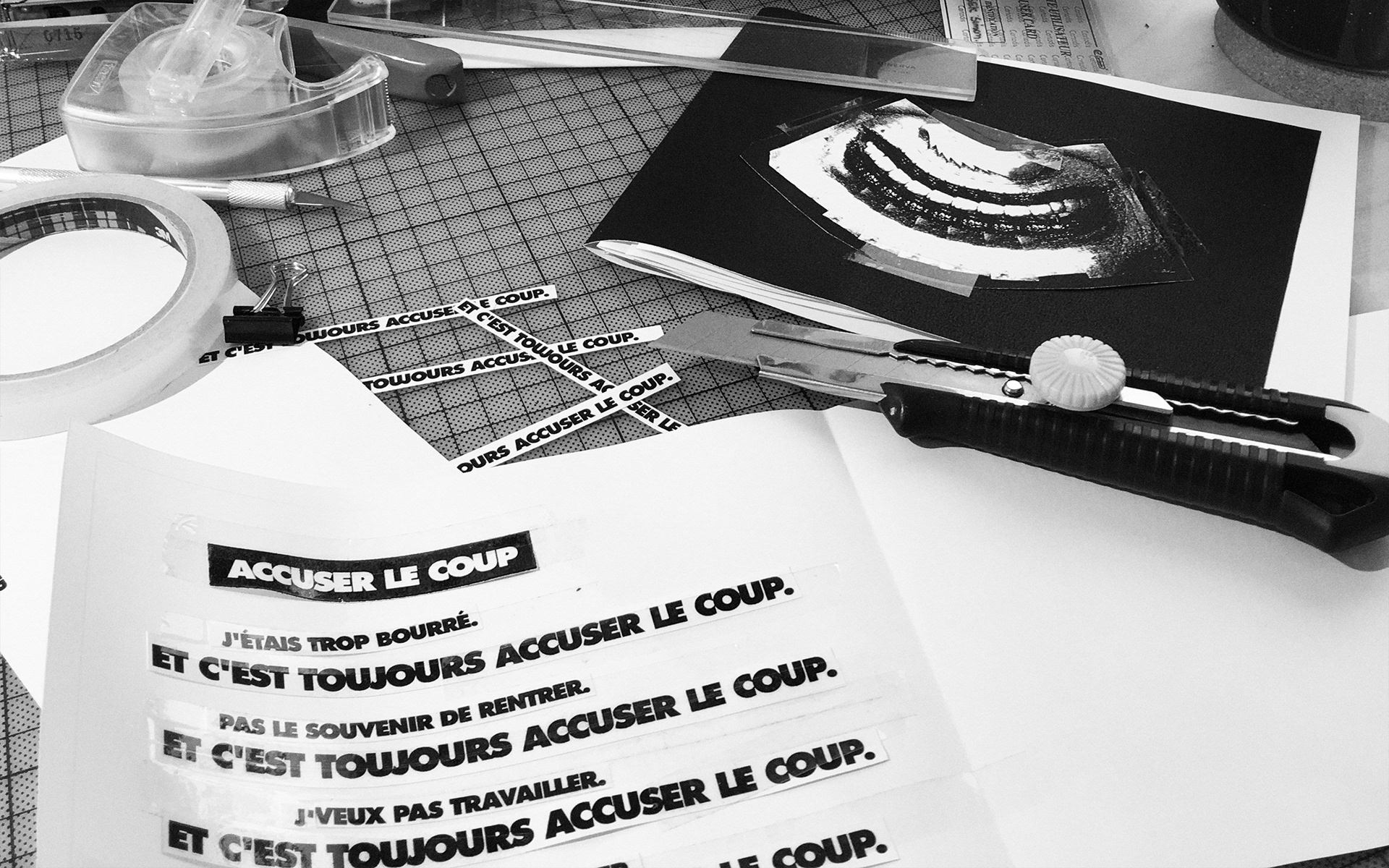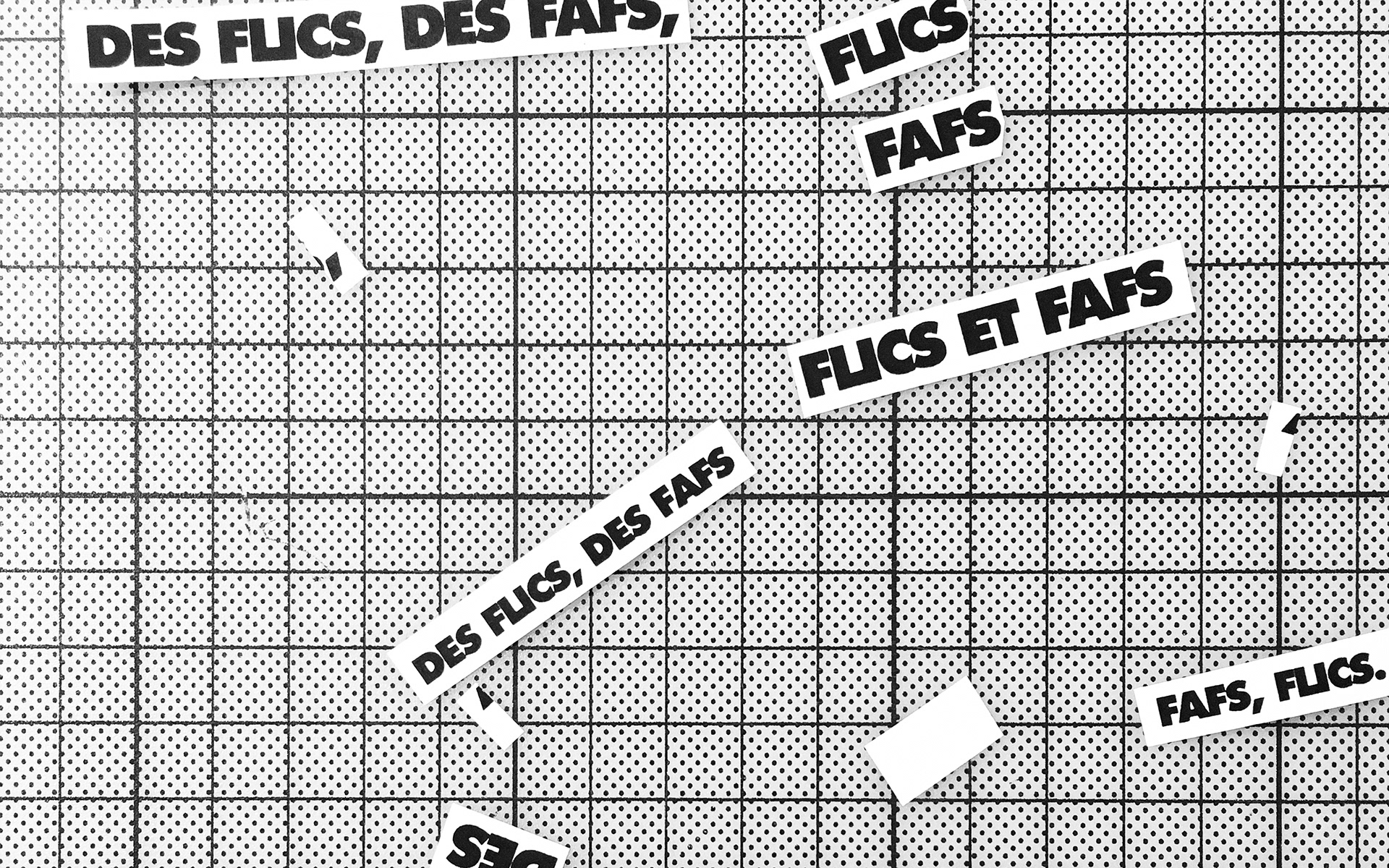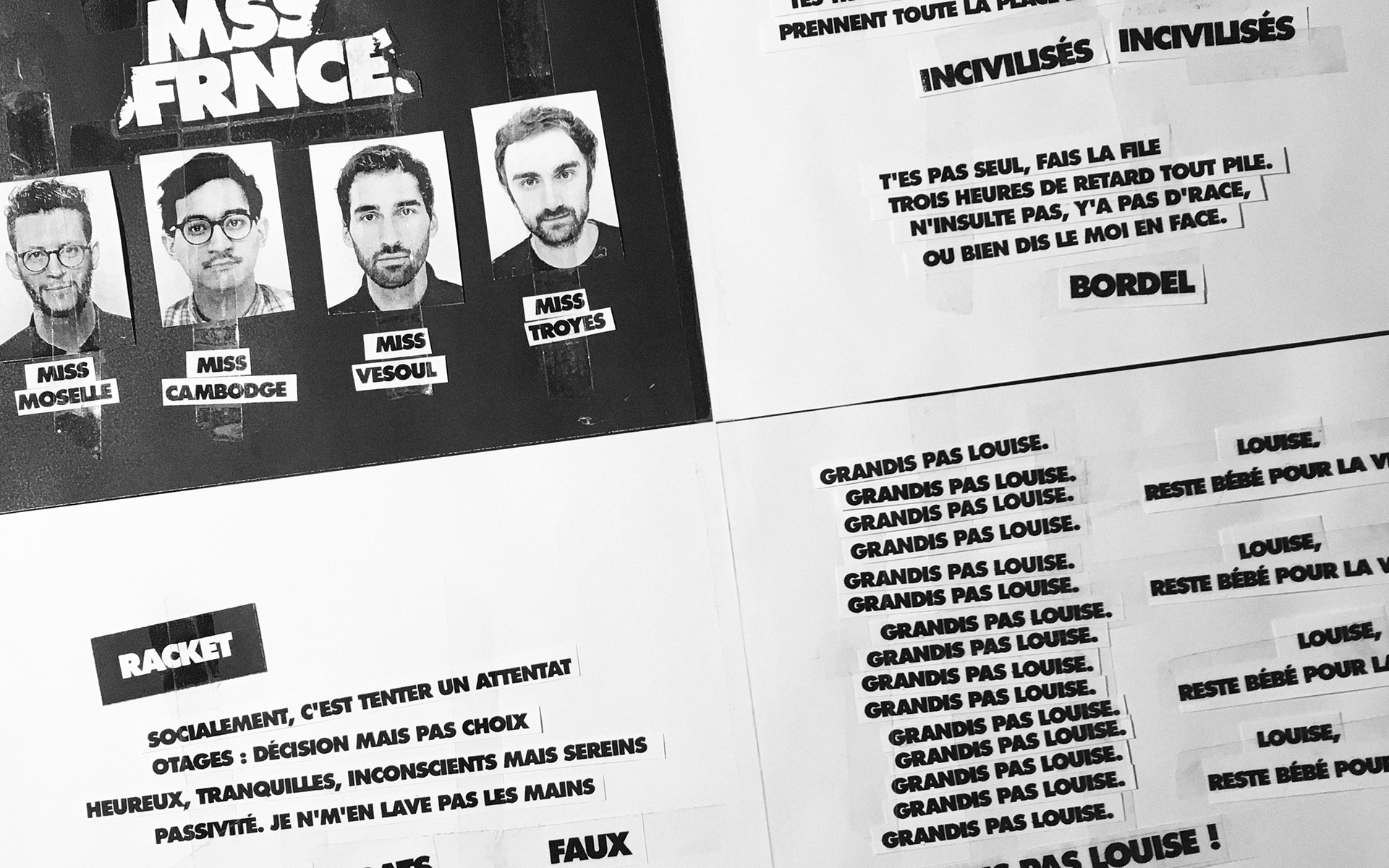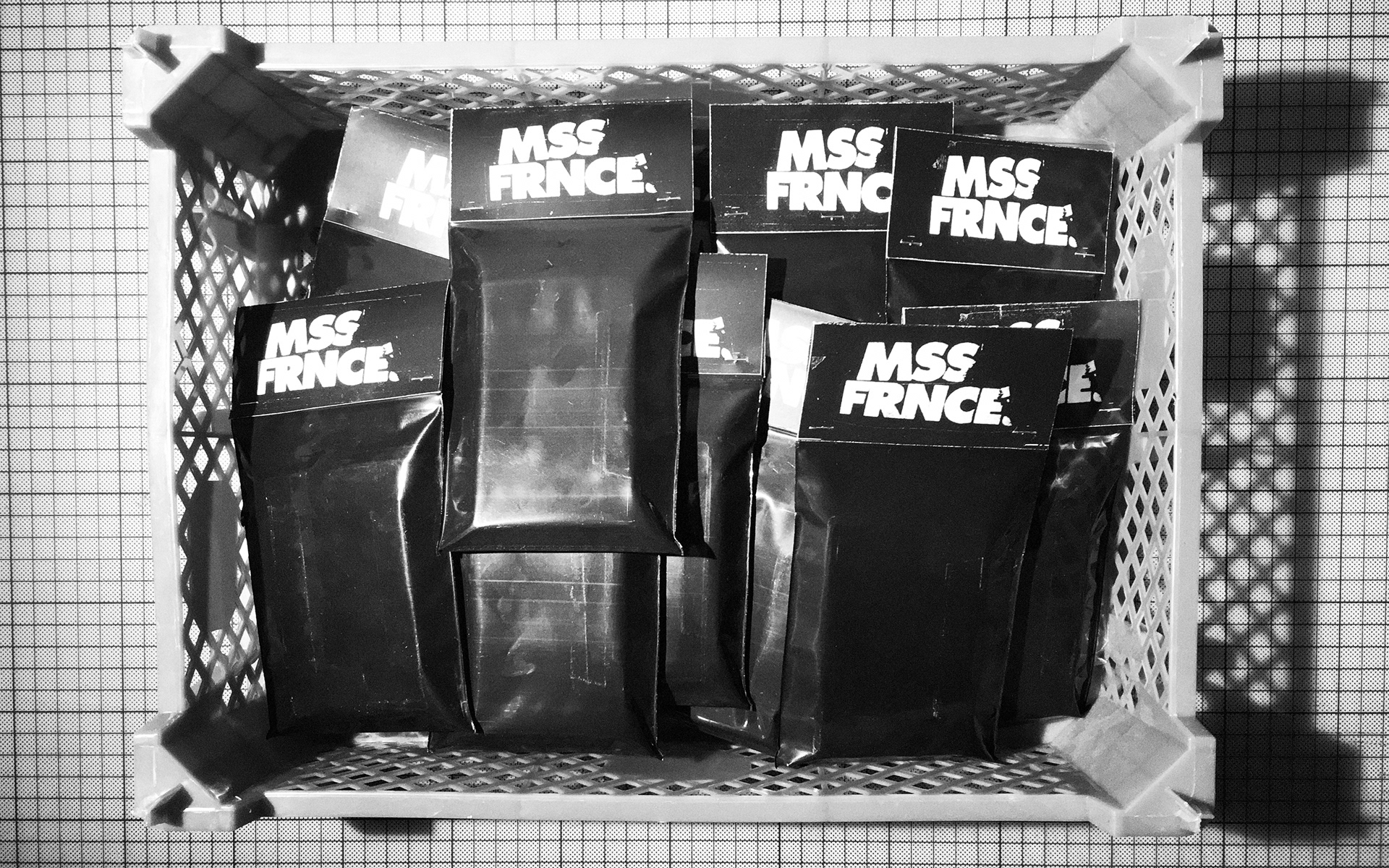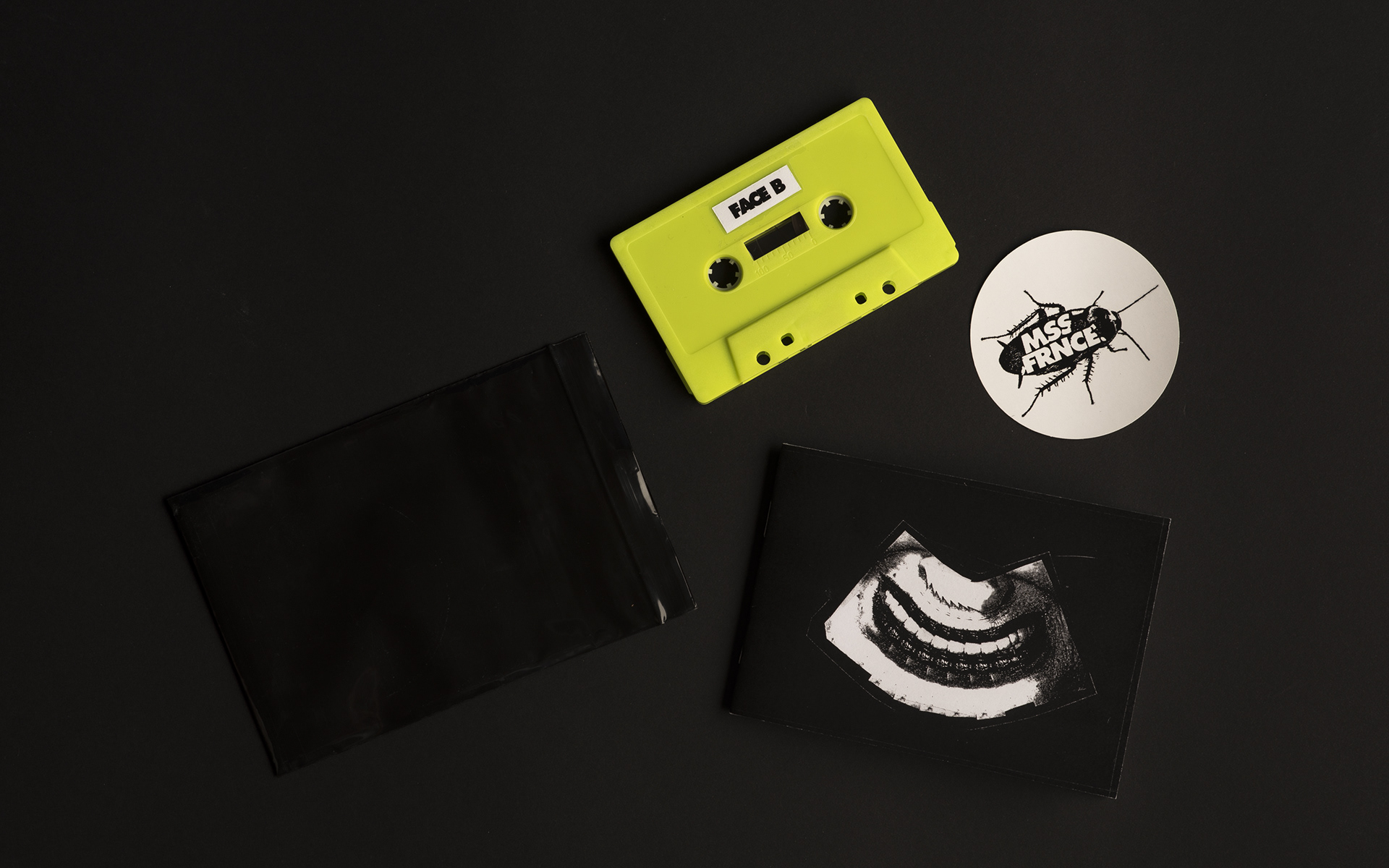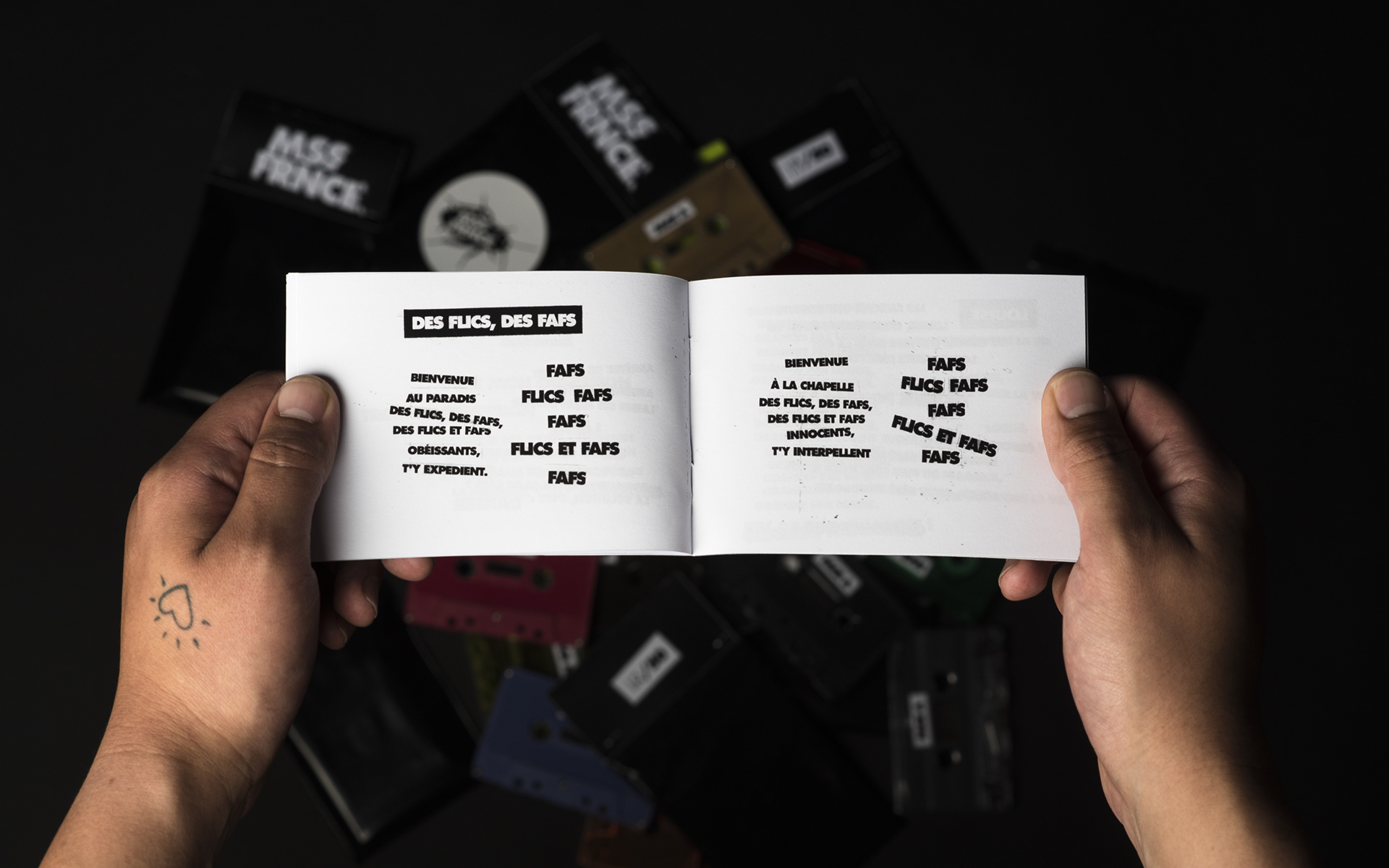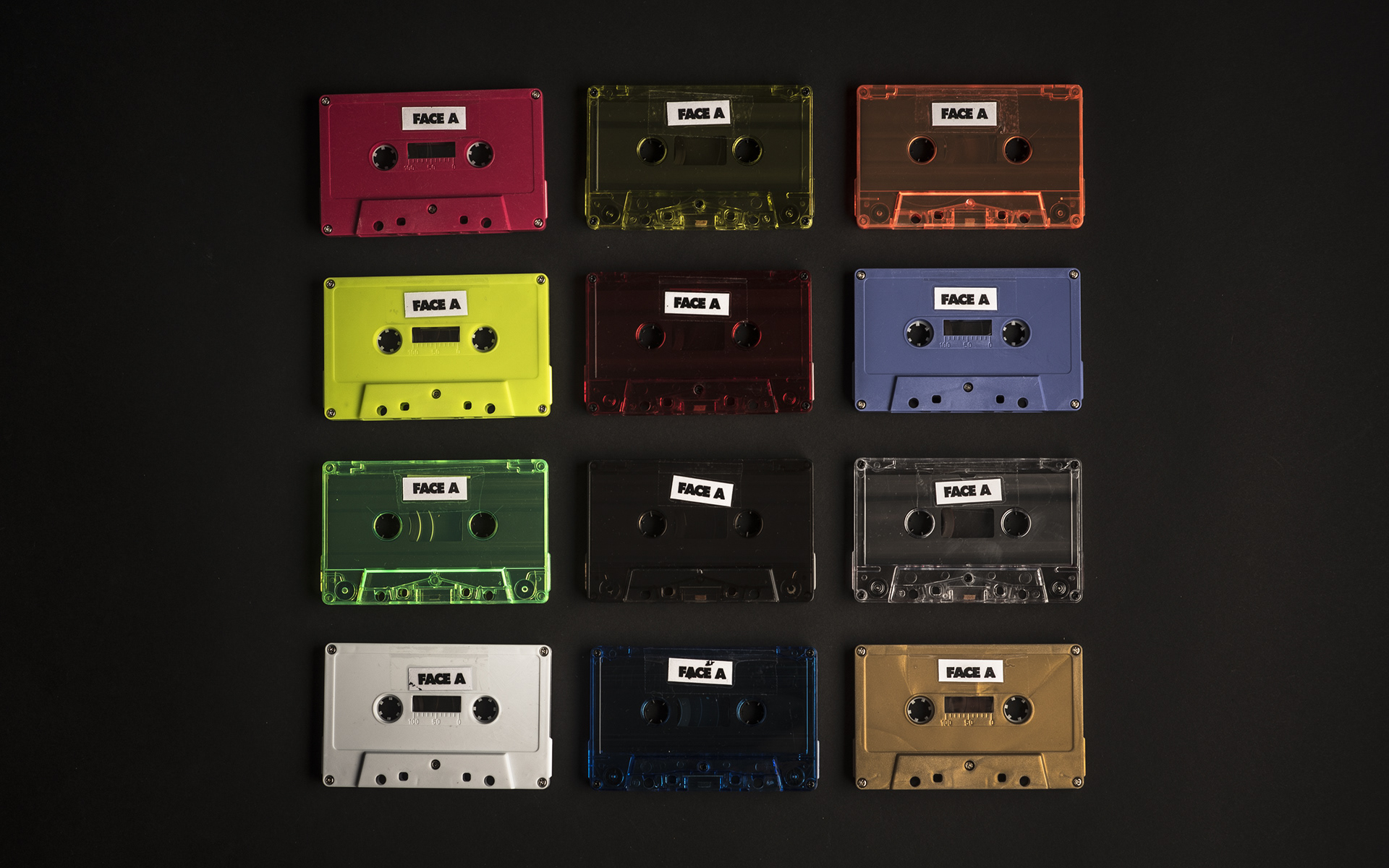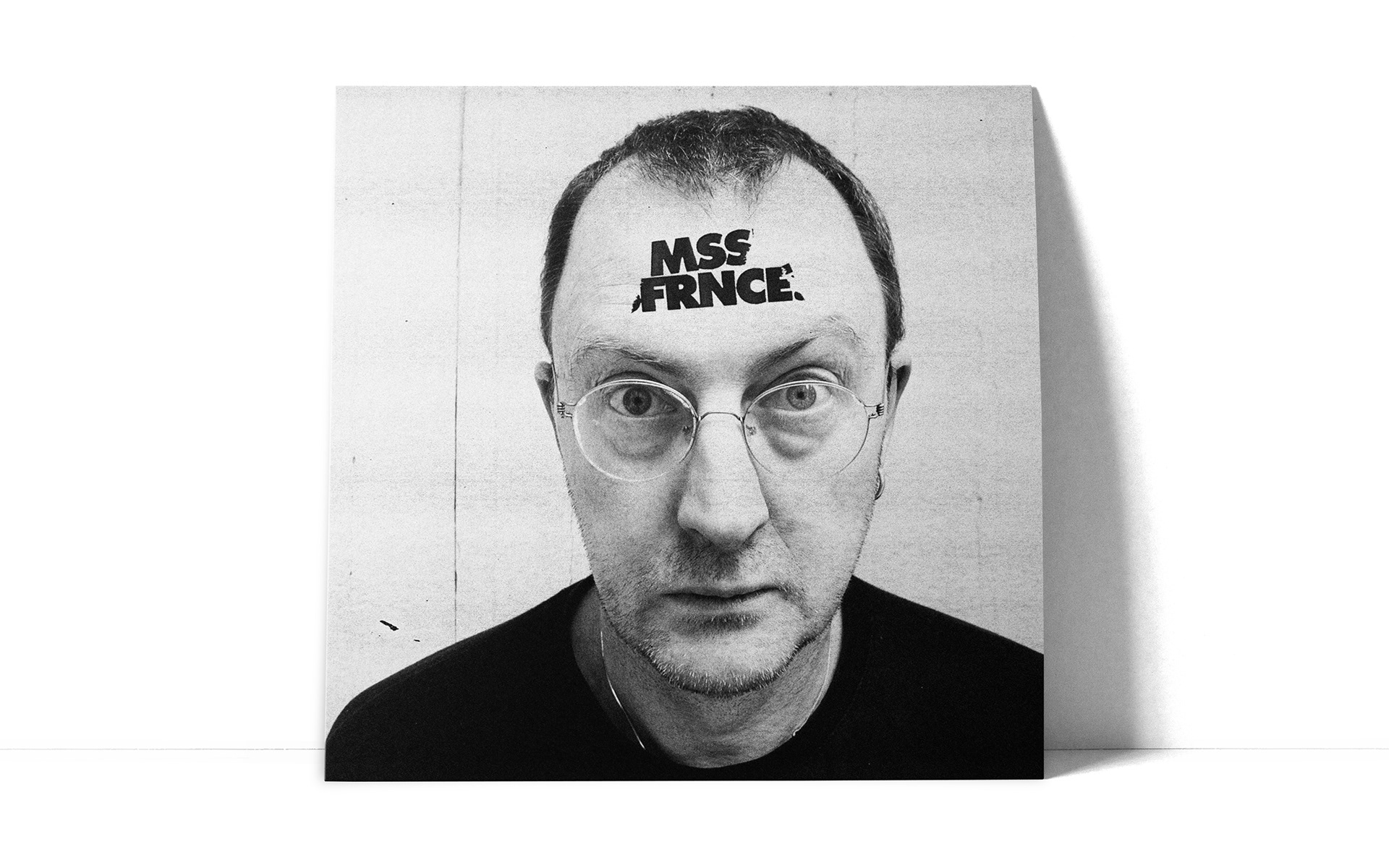 EP II
II est le second EP du groupe, enregistré en 2017 par Nick Buxton à Basement Studios et disponible en format digital seulement. 
La pochette de l'EP est une photo de Nick.
II is the band's second EP, recorded in 2017 by Nick Buxton in Basement Studios and only available as a digital album. The artwork shows a portrait of Nick.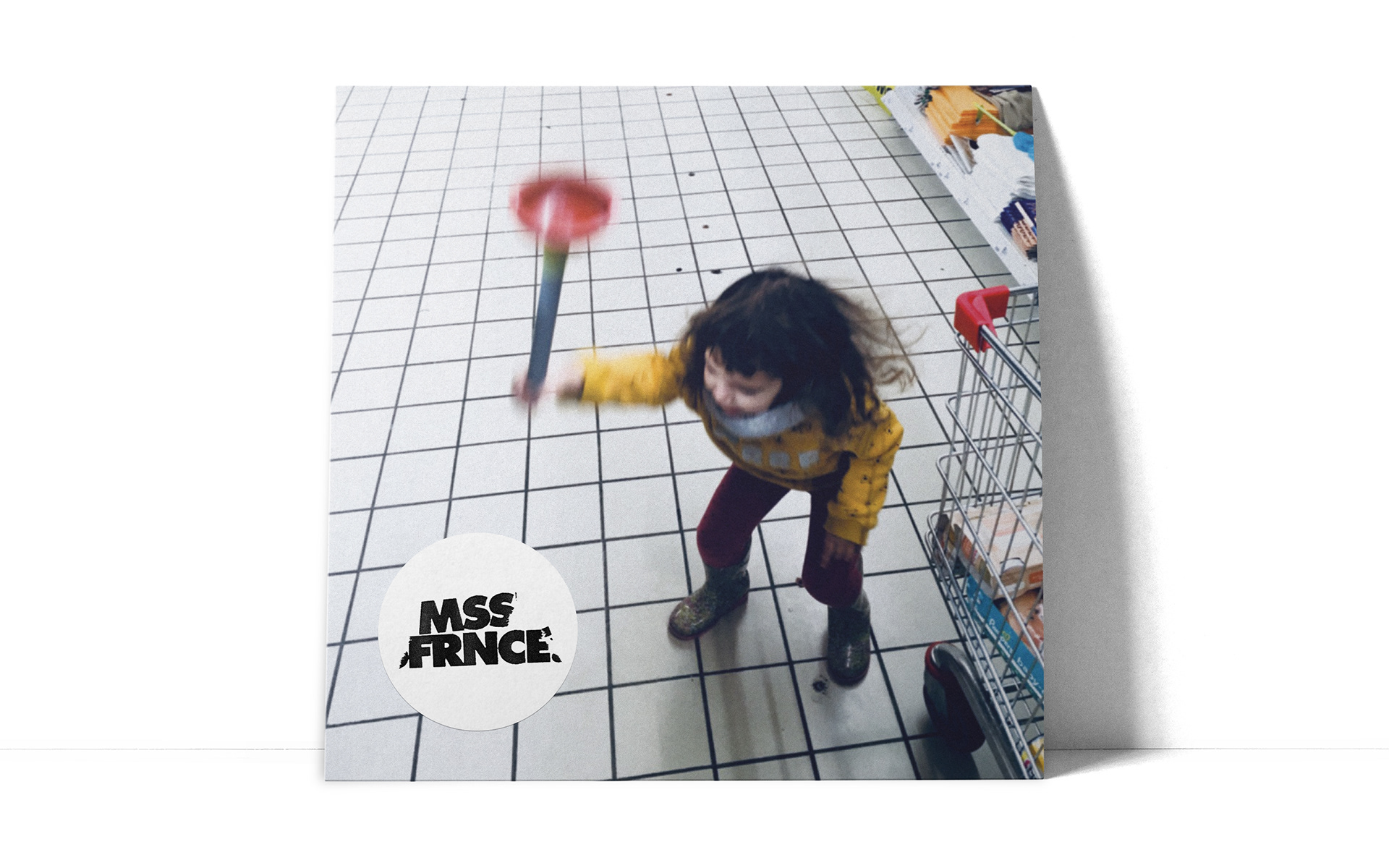 EP III
III est le troisième et dernier EP en date du groupe. Produit, mixé et masterisé en 2018
par Slikk Tim (assisté de Lucien Krampf) à Saint-Denis, III a été pressé en disque vinyle.
La pochette de l'EP, clin d'œil au

London Calling

des Clash, est une photo de Louise,
III is the band's third and latest EP. Produced, mixed and mastered in 2018 by Slikk Tim (helped by Lucien Krampf) in Saint-Denis, III has been recorded on vinyl disc. The artwork, nodding the infamous Clash's London Calling, shows Louise, the singer's niece.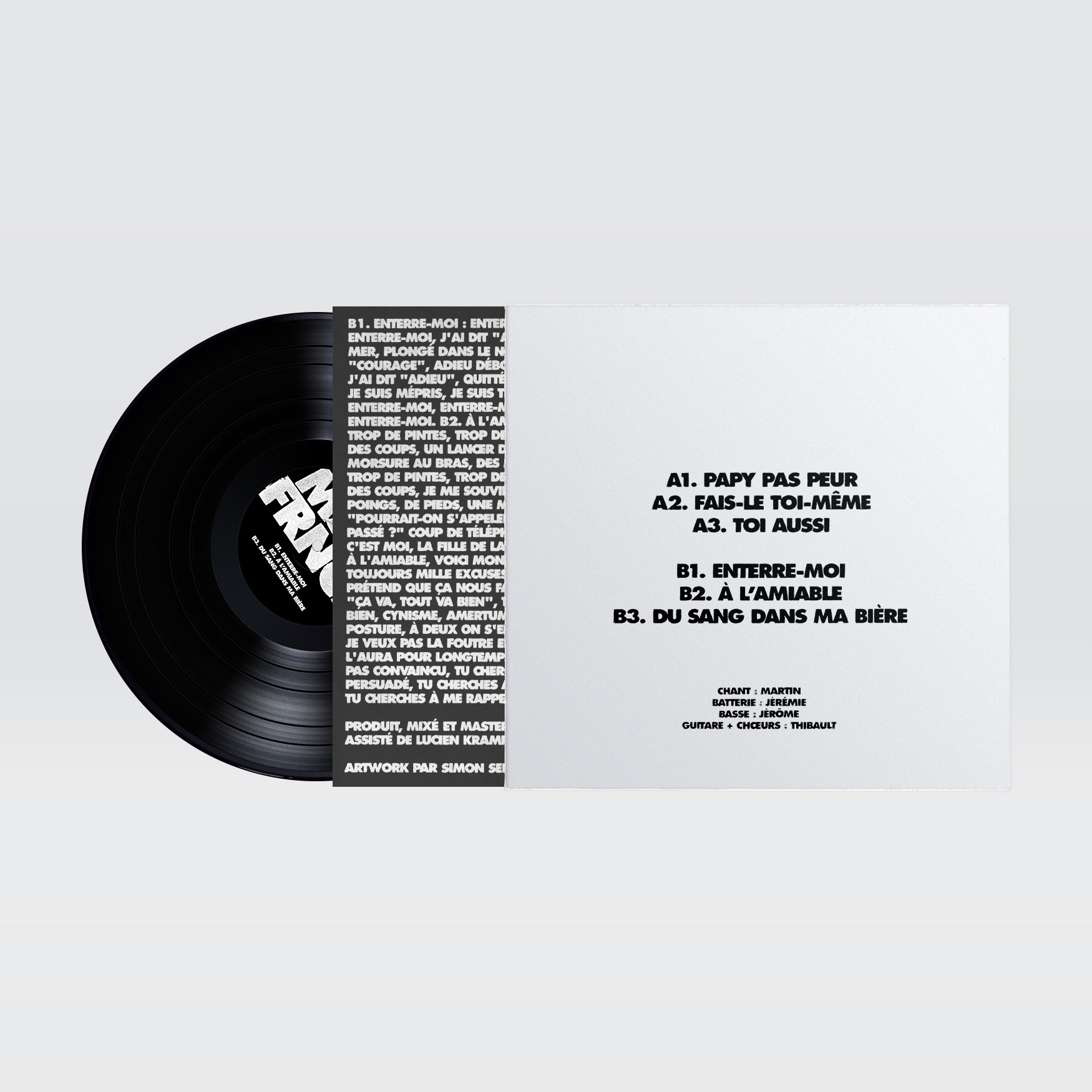 Typographie
L'identité visuelle de MSS FRNCE utilise le Futura dans sa graisse Extra Bold, le tout uniquement en lettres capitales. Les multiples passages au photocopieur créent alors une texture unique à chacun de caractères conférant ainsi à l'identité du groupe singularité et plasticité. Le caractère obtenu a été baptisé
No Futura
.
MSS FRNCE's visual identity uses the all caps Futura Extra Bold. The multiple photocopier passings create texture to the characters conferring to the band's visual identity some singularity and plasticity. The resulted typeface has been called No Futura.