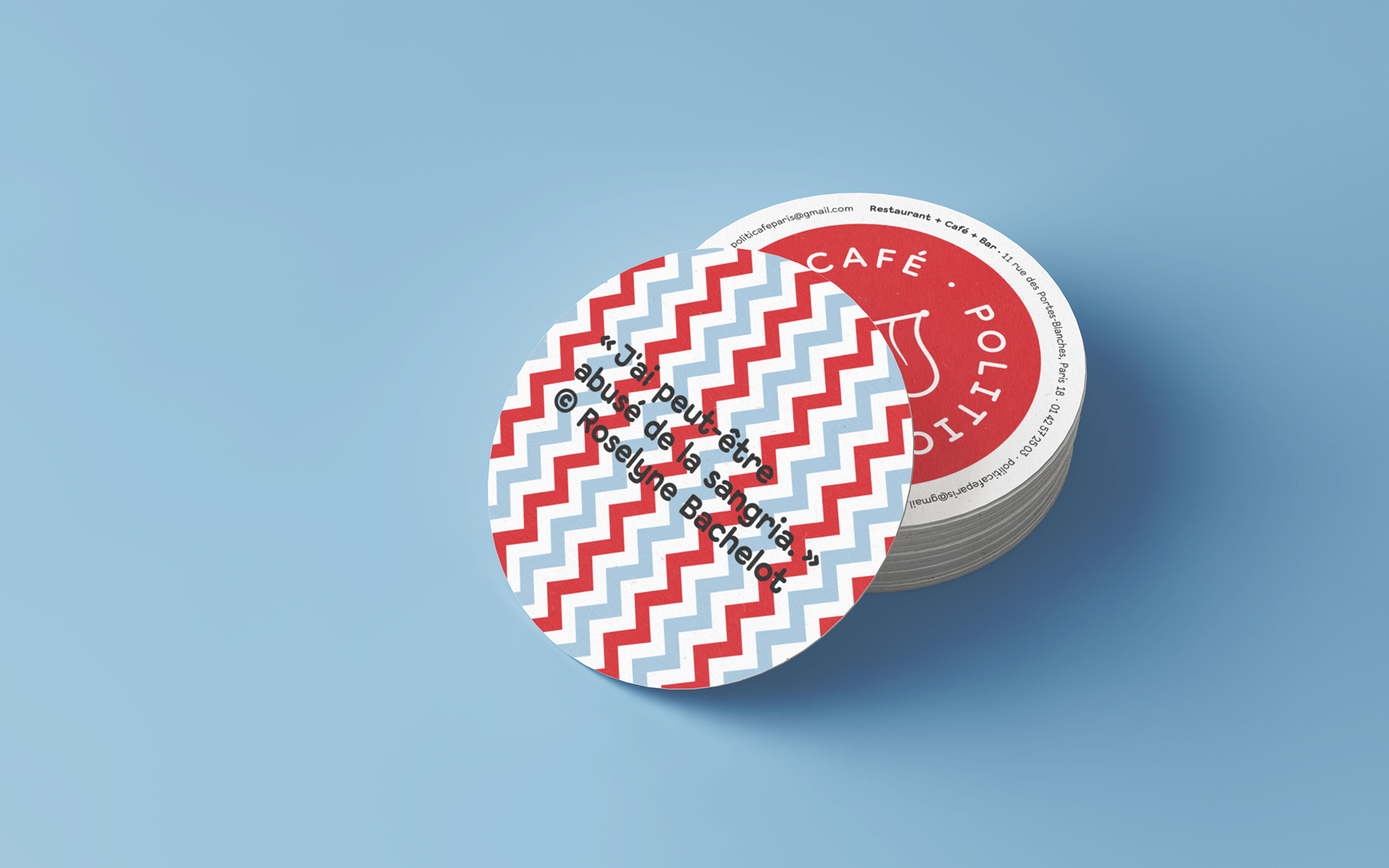 Politicafé

Identité visuelle
/ Visual identity
Le projet
Situé dans le 18ème arrondissement parisien, Politicafé est un établissement de restauration librement inspiré par la politique française. Lieu définitivement non-partisan, Politicafé rend hommage avec humour à la politique française des années 80 par l'utilisation de citations humoristiques et/ou grotesques (mais réelles) de personnalités politiques, le tout accompagné d'une série de trames reprenant avec le célèbre
bleu-blanc-rouge
. On retrouve la même tonalité humoristique et parodique dans les noms des plats, pâtisseries et cocktails qu'on y sert.
Located in the 18th arrondissement of Paris, Politicafé is a food establishment freely inspired by french politics. Definitly a non-partisan place, Politicafé pays tribute with a great sense of humor to 80's french politics by using funny and/or ridiculous (but real) quotes from politicians, combined to patterns based on the French flag's famous bleu-blanc-rouge. Also, names of the dishes, pastries or cocktails they serve follow the same comic and parodying mood.
PS: Dear english-speaking friends, sorry for possible language mistakes. I did my best.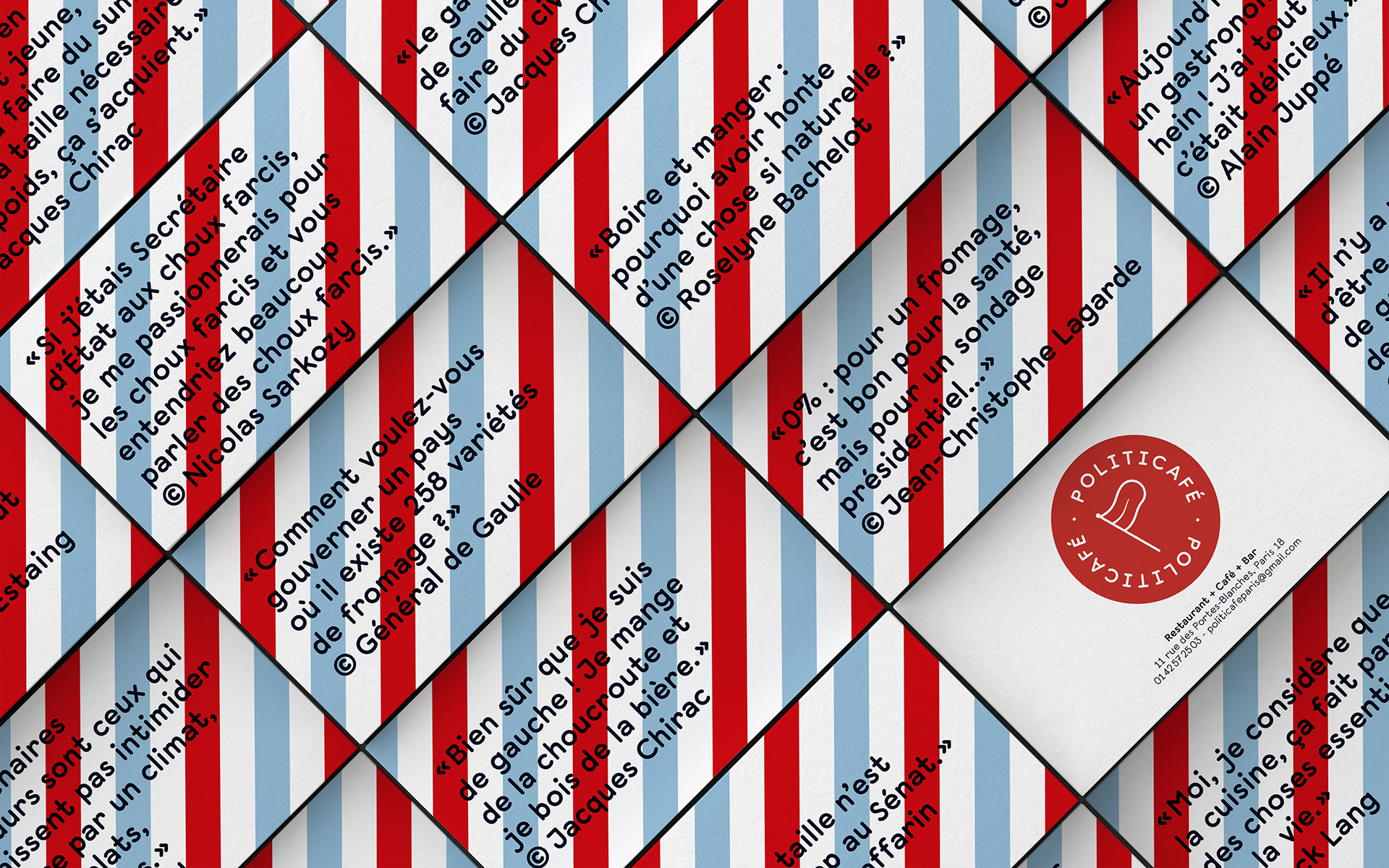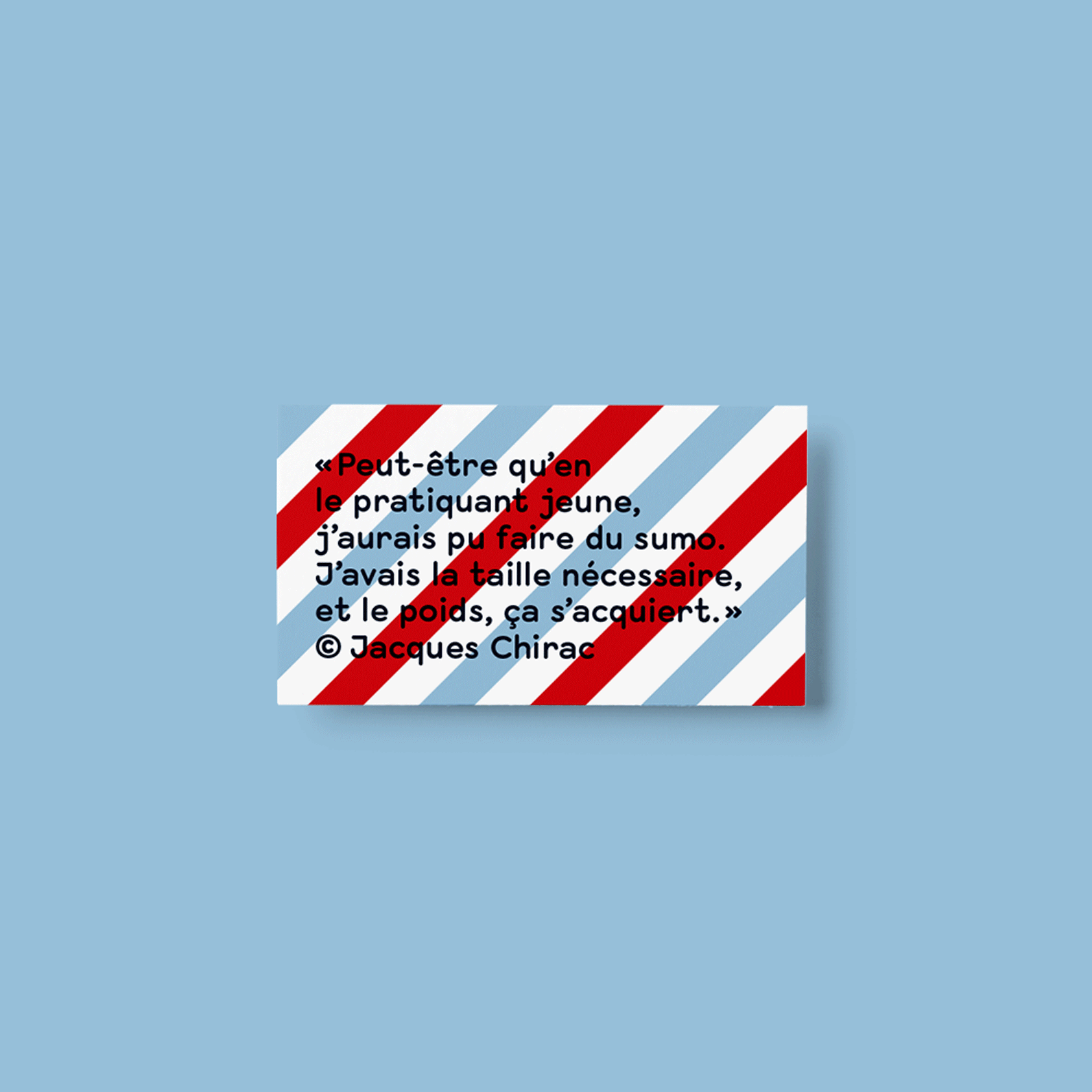 Cartes de visite
Les cartes de visite de Politicafé reprennent 25 citations de personnalités politiques Françaises. Avec 25 designs différentes, les cartes de visites deviennent alors des supports à collectionner.
Politicafé's business cards display 25 quotes from french politicians. Counting 25 different designs, the business cards turn into collectible items.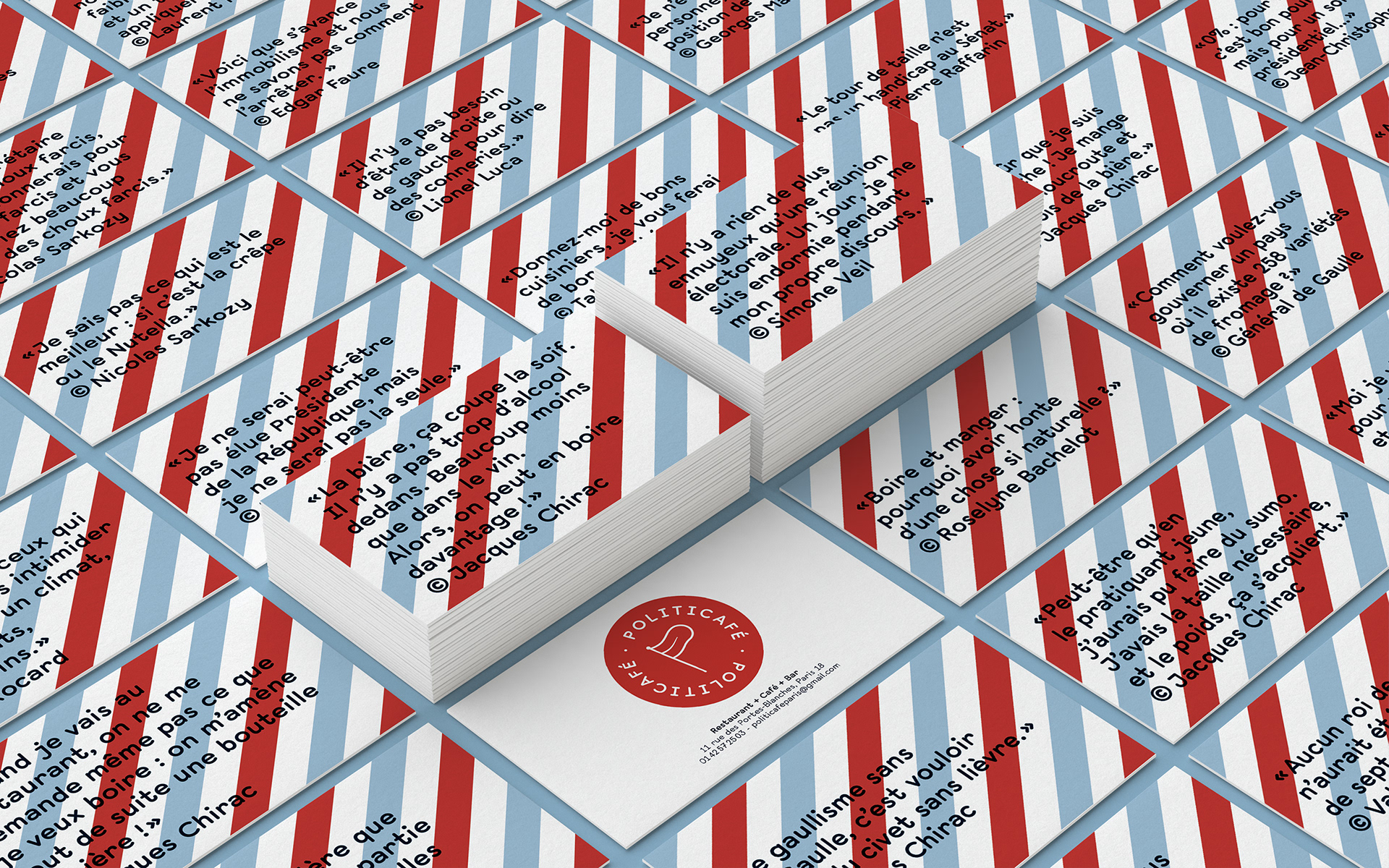 Trames & typographie
La superposition de la typographie et des trames bicolores crée une lecture difficile mais pas impossible. Il s'agit d'une métaphore visuelle tentant de matérialiser graphiquement ce que le peuple (et moi-même) reprochons souvent à nos politicien.ne.s : l'utilisation fréquente d'un phrasé complexe, voire la tentative de noyer l'auditeur par un discours manquant de clarté.

The superimposing of typography and two-tone patterns creates hard-to-read but not impossible-to-read compositions. It is a visual metaphor trying to graphically represent what most people (including me) are reproaching to our politicians: the use of a complicated phrasing, even the attempt to get the audience caught up in some blurred speech.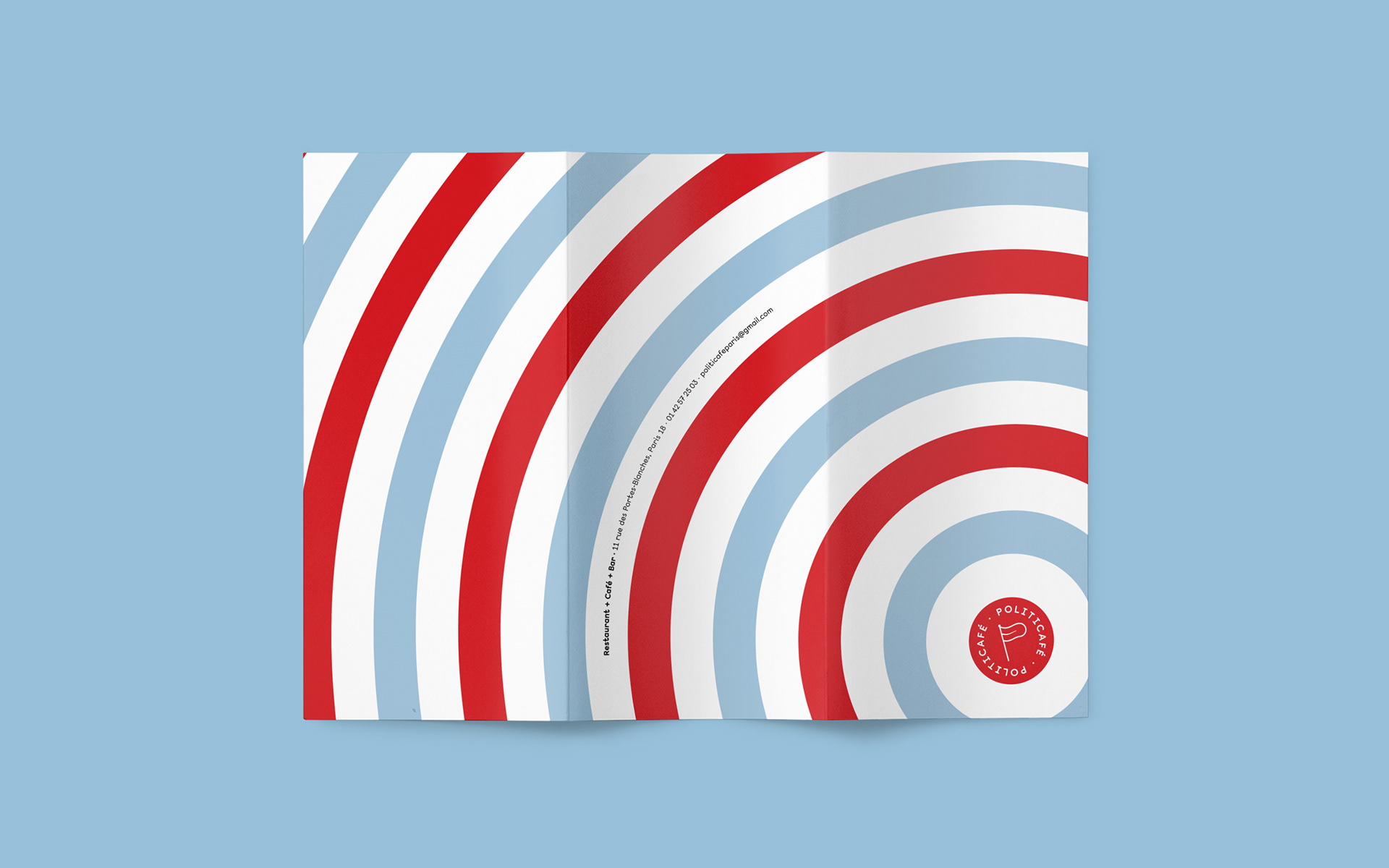 Carte
Ouverte, la carte à 3 volets prend la forme de drapeau Français. Chaque volet est propre à chaque moment de la journée : les boissons et collations consommables en journée se trouvent à gauche, celles en soirée à droite, et le menu du déjeuner au centre.
When opened, the tri-fold menu turns into a french flag. Each part of the menu is dedicated to each moment of the day: dishes & beverages edible and drinkable in broad daylight on the left side, the "night ones" are on the right side, and the lunch menu is on the middle one.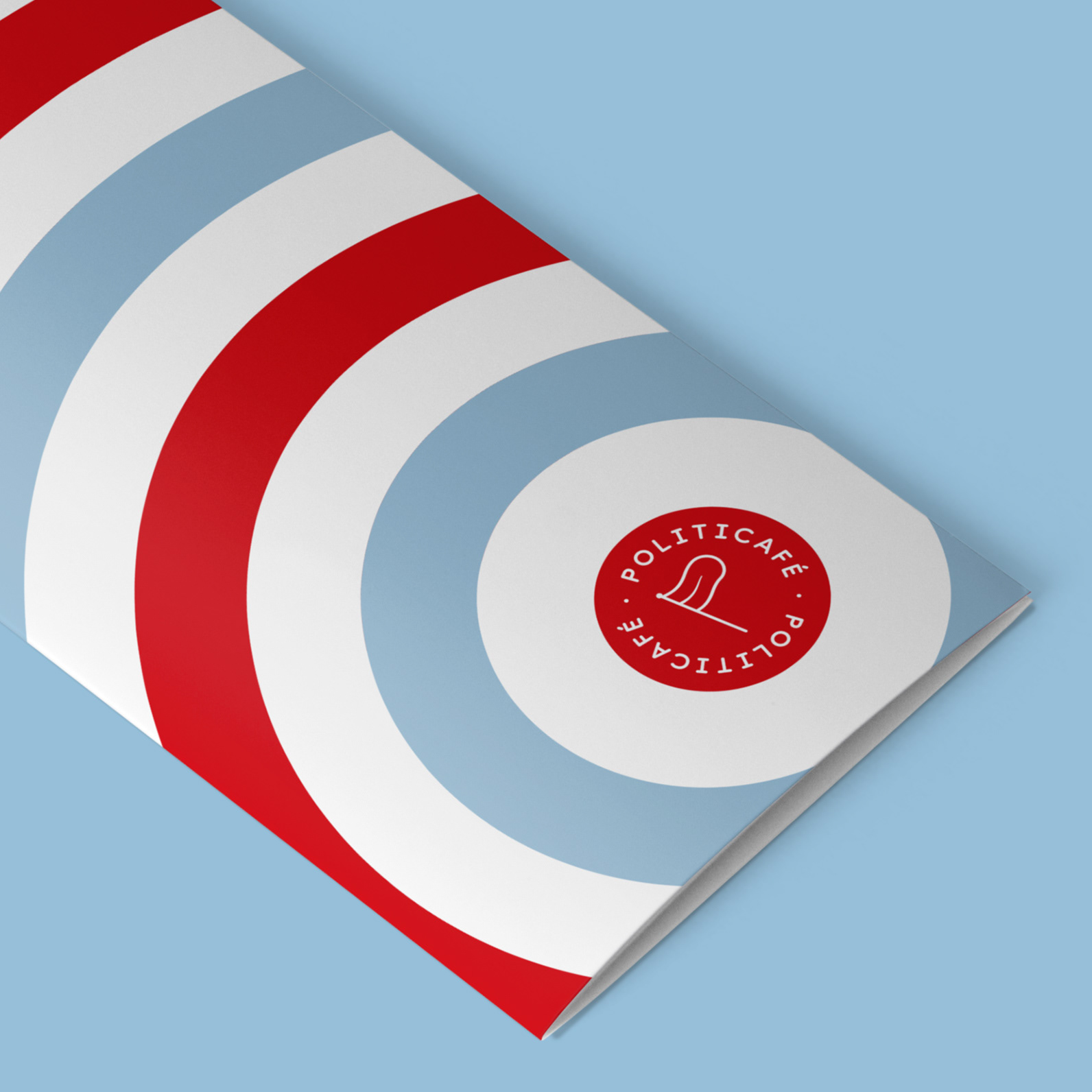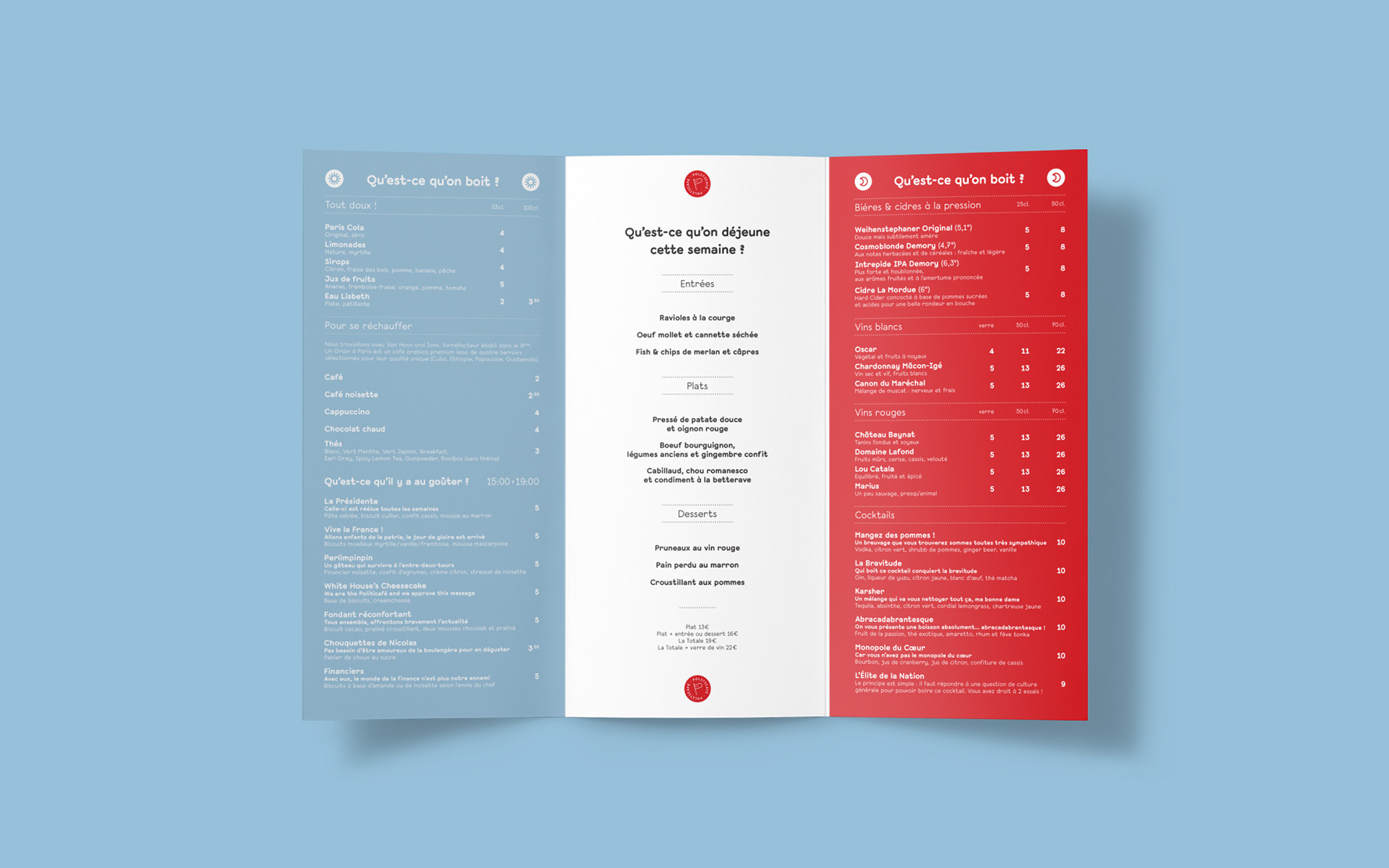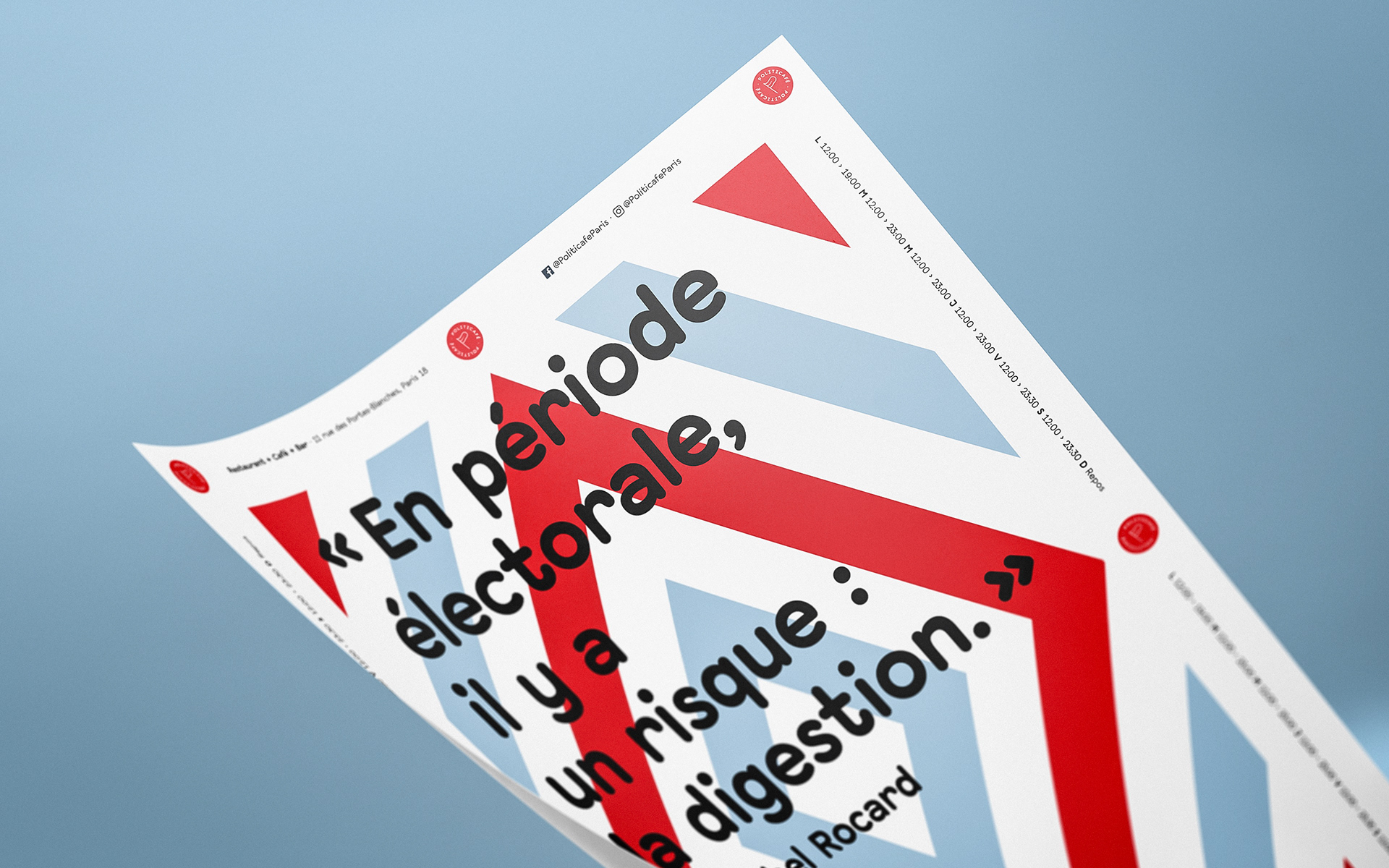 Affiches
Créées pour faire la promotion de l'établissement, chacune de ces affiches A1 arbore une citation et une trame différente. Les informations relatives à Politicafé sont archivées sur le périmètre intérieur du support.
Designed to promote the establishment, each one of these A1 posters display a single quote paired to its own pattern. Politicafé's essential informations are placed all around the inner perimeter of the poster.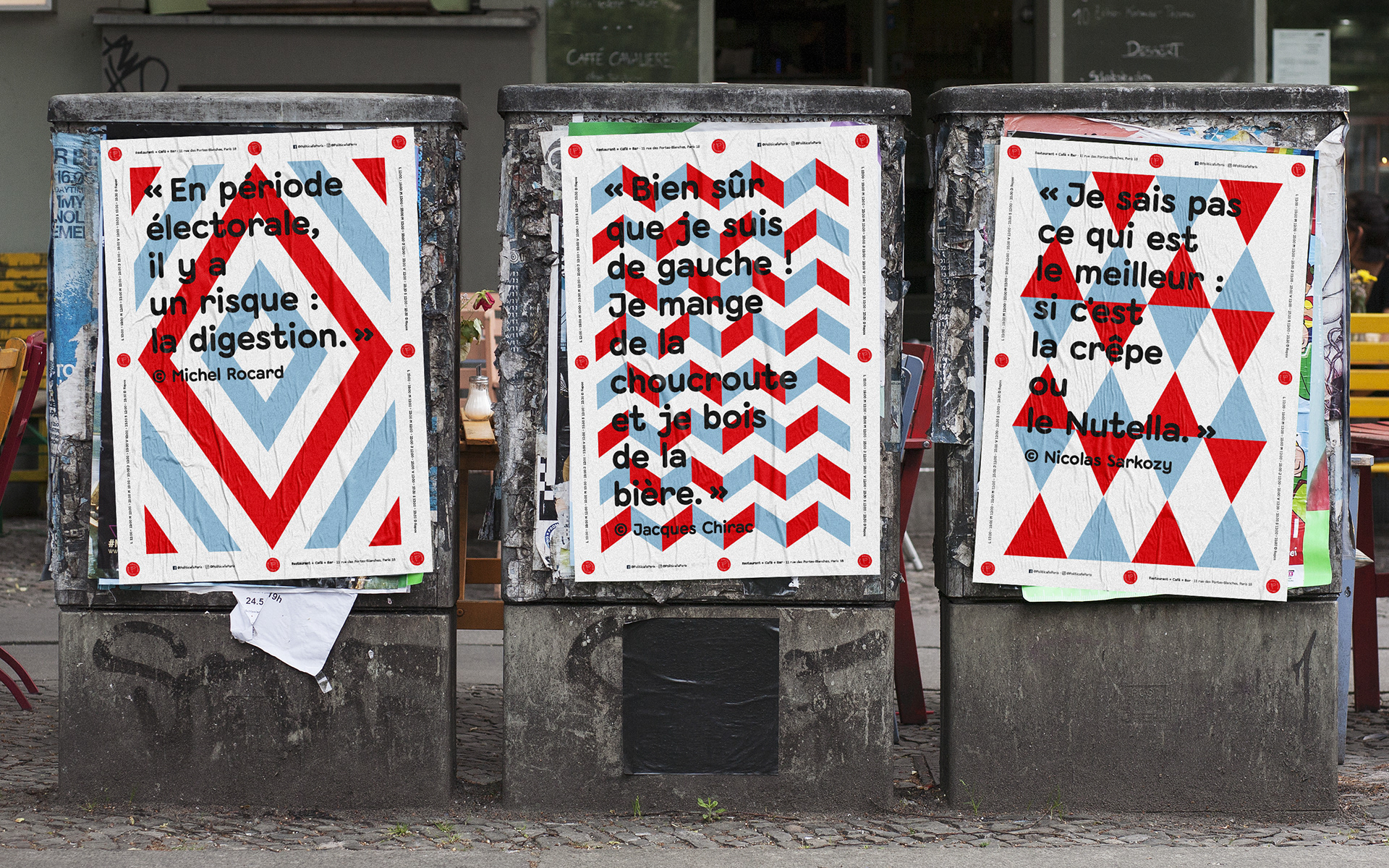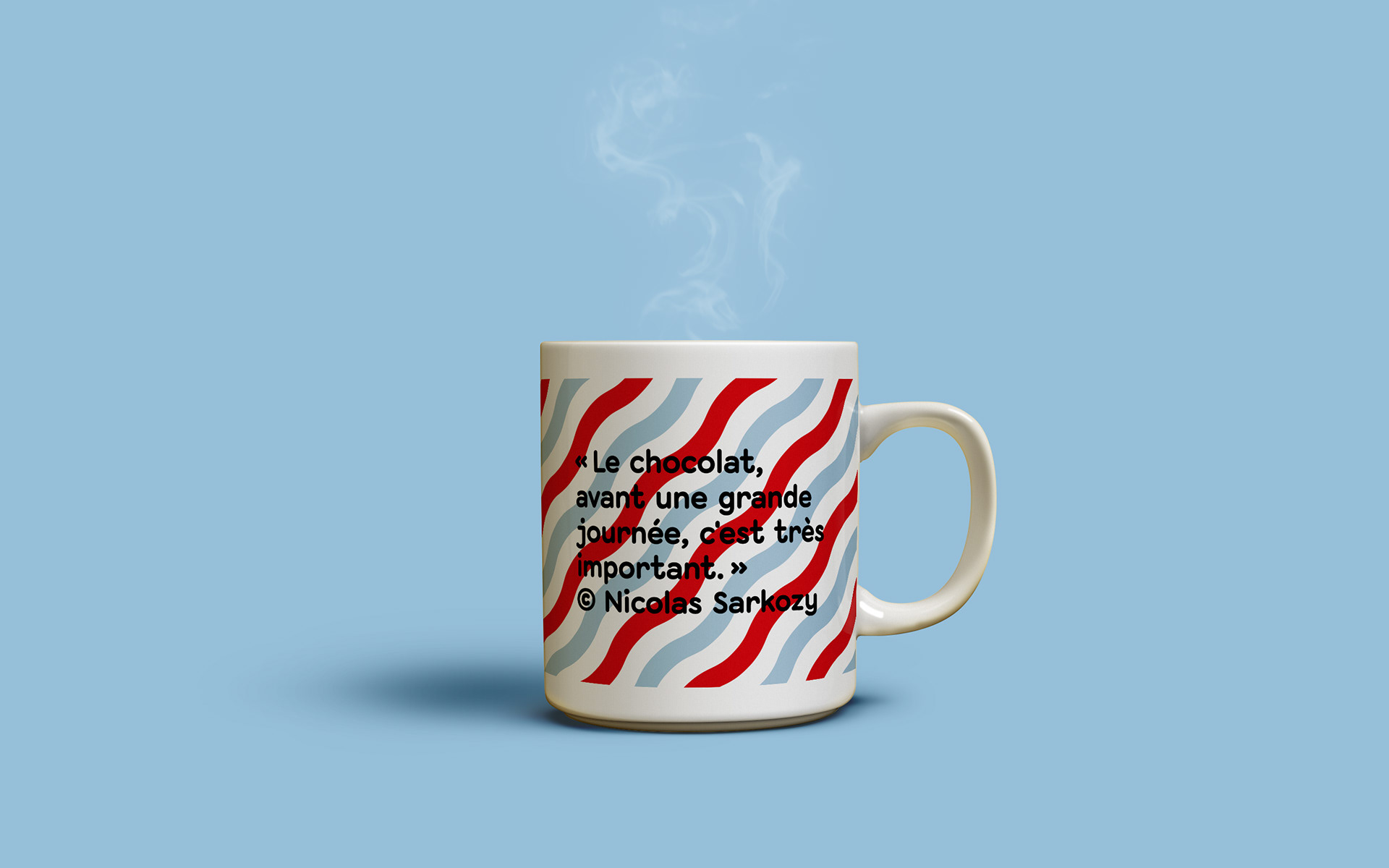 Goodies
Mug, sous-bocks, sac en papier, badges, patches brodés, étiquettes pour pots de sauces maison, ballons, boîte d'allumettes.
Mug, coasters, paper bag, buttons, embroidered patches, homemade sauce jar labels, rubber balloons, matchbox.